This article was first published on Medium on March 14, 2019.
Dear HR officers, we know that the topic onboarding has been following you since your very first internship, but in this fast-growing environment, it is more important than ever!
In only two years, the Qonto team has grown from 10 to 130 talents and it continues to grow very fast.
At Qonto, we asked ourselves the following question: How to onboard so many people while maintaining quality and efficiency?
Being aware that the first steps of a new talent in a company are crucial, we have put a lot of care into building and improving our onboarding process. And here is the state of mind that made us start working on this matter: "You only get one shot at a first impression".
In this article, we will share with you our best practices, which are easy to set up, to welcome new recruits and engage them from their very first steps, in a friendly environment!
At Qonto, we do our best to ensure that during the first week of each new employee we address those 3 important points :
1- Creating a sense of belonging
To feel welcomed, to know that you are expected and to be immersed from the very first moment in the team's life to get its culture.
2 - Understanding the work environment
Discover how the company works: from the product to growth challenges, but also by mastering every day tools!
3 – Having clear objectives
Each new employee must be 100% aligned with the scope of his/her missions and objectives. This will allow him/her to focus on priorities and take up his/her position with confidence.
Chronologically, here is how things go at Qonto:
Before arrival
Notify the team before the arrivals
"Thomas? Never heard of him!". Not a very warm welcome, we agree.
This is why we send an email to the whole team prior arrival of the new recruits to give them a heads up that new Qontoers are coming. This email goes with a description and a photo so that everyone can get to know the newcomers before they even become part of the team.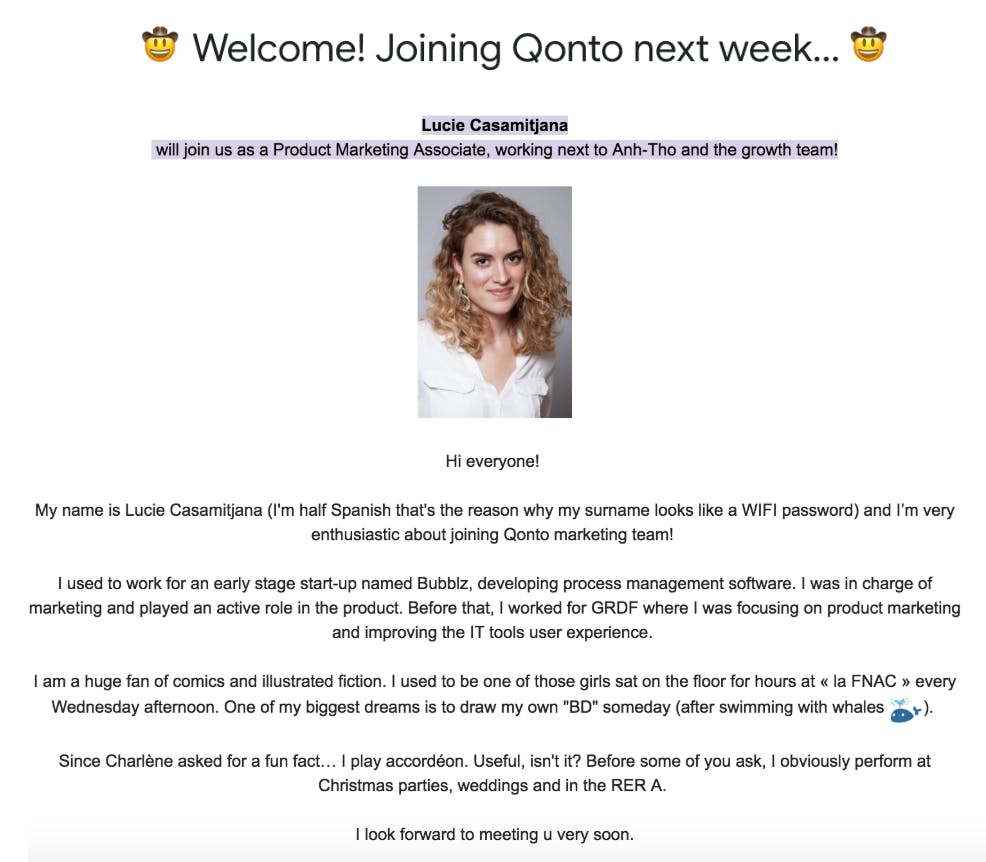 We also invite recruits to internal events before they start to work. There's nothing like having a drink together before officially joining the team, and thus less apprehend your first day where you don't know anyone!
The D-Day
We can all recall anxious memories of our first days. You don't know the code of the front door, or you are no longer sure of which floor you should go to and above all, you don't know who and what awaits you.
-"Em, hello, I am the new guy/girl, I was told to come around 9AM".
These awkward moments can clearly be avoided by anticipating the organization of arrivals!
Rather than having piecemeal arrivals, we have created grouped "promotions" that arrive every two weeks on Mondays. This makes it possible to create team spirit and gain efficiency on the logistics side.
Hereunder, the October 15 2018 batch, that holds the record for the largest Qonto promotion, with 11 newcomers!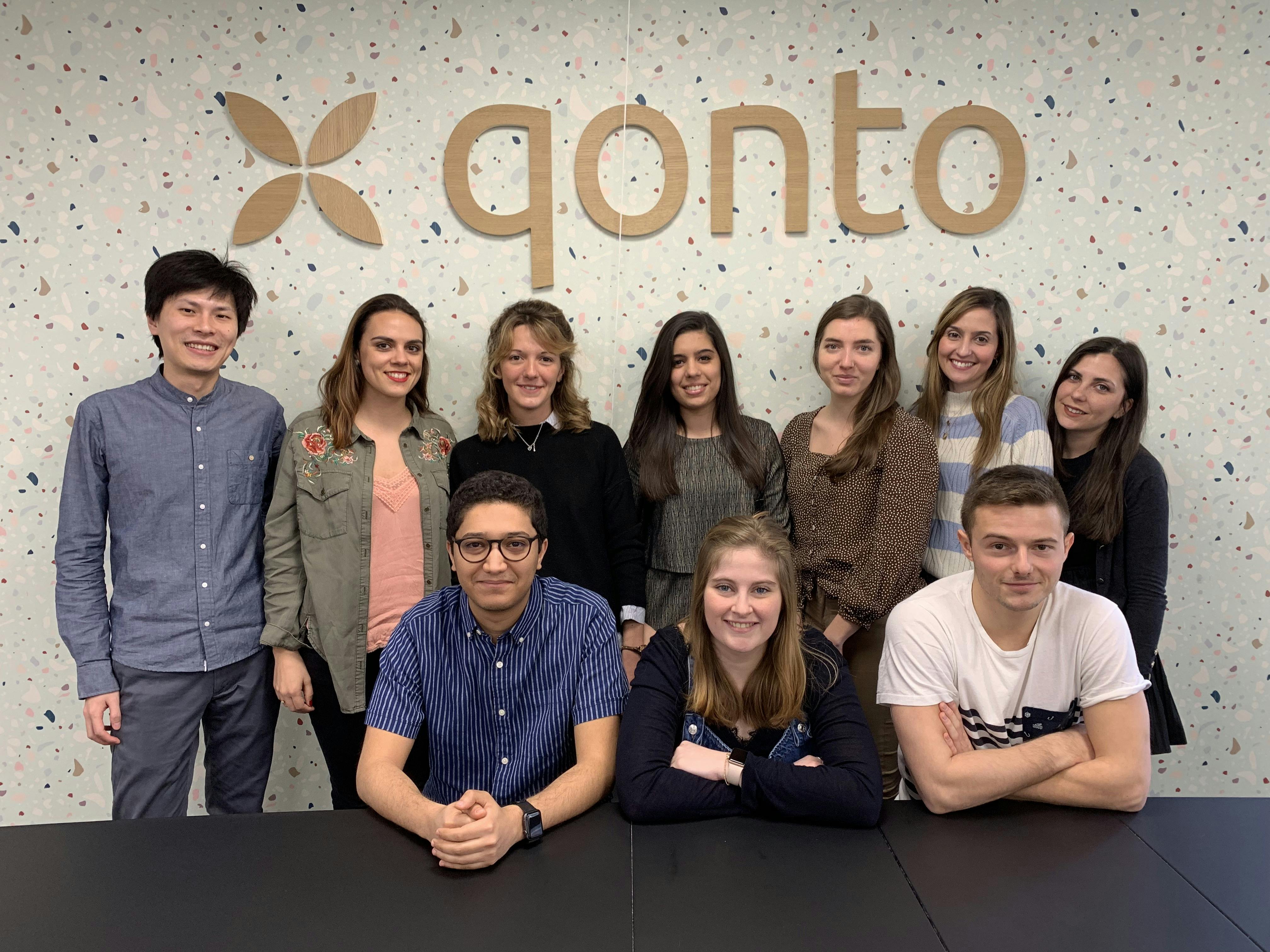 To create a sense of belonging from the very beginning, nothing beats the classic Qonto branded "welcome pack". On their first day, each newcomer will find on his/her desk the following : t-shirt, sweatshirt, tote bag, sticker, mug, notebook...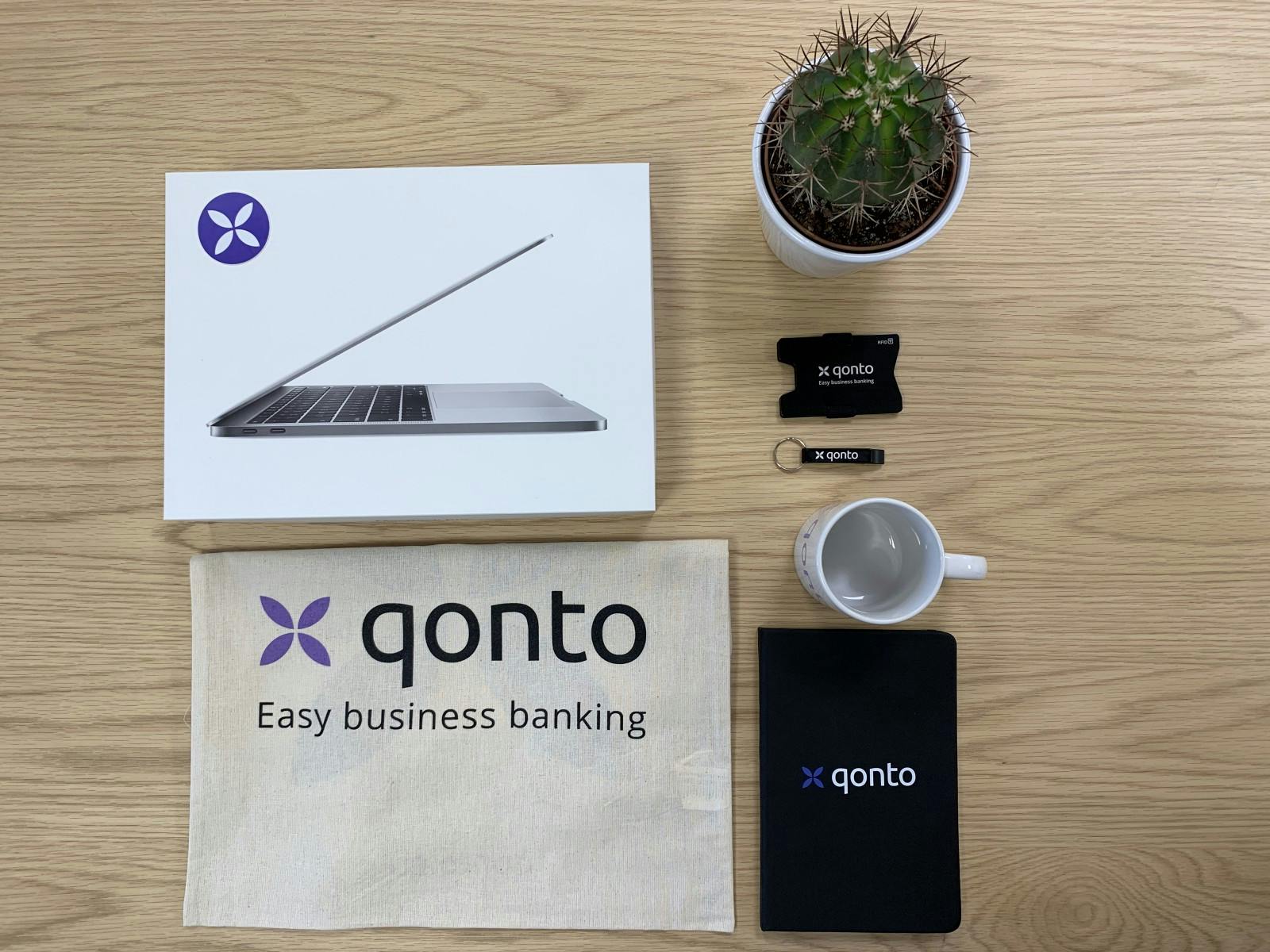 Create a moment of friendliness
All newcomers are welcomed with a breakfast in our kitchen with their teams. It creates a friendly and warm welcome so that everyone can take the time to introduce themselves and exchange for a bit.
To avoid hearing after a month in the company "hm no, I'm not on Productboard, I haven't been explained how it works", we might as well spend some time to explain how the tools work from the beginning!
Our Office & Happiness Manager (Camille) has become a true expert! She takes the time to set up the MacBook and the tools that each person will use.
To us, it seemed fundamental to plan a meeting with the founders for a presentation of the company's vision and mission. This allows the new employees to fully understand the background of Qonto, the evolution and very embodiment of our values or the way we work.
Meeting with their manager
Systematically plan a meeting with your manager to define your missions, objectives and role at Qonto, beyond the job description you read at the time of application!
The first week
The first week at Qonto looks like this: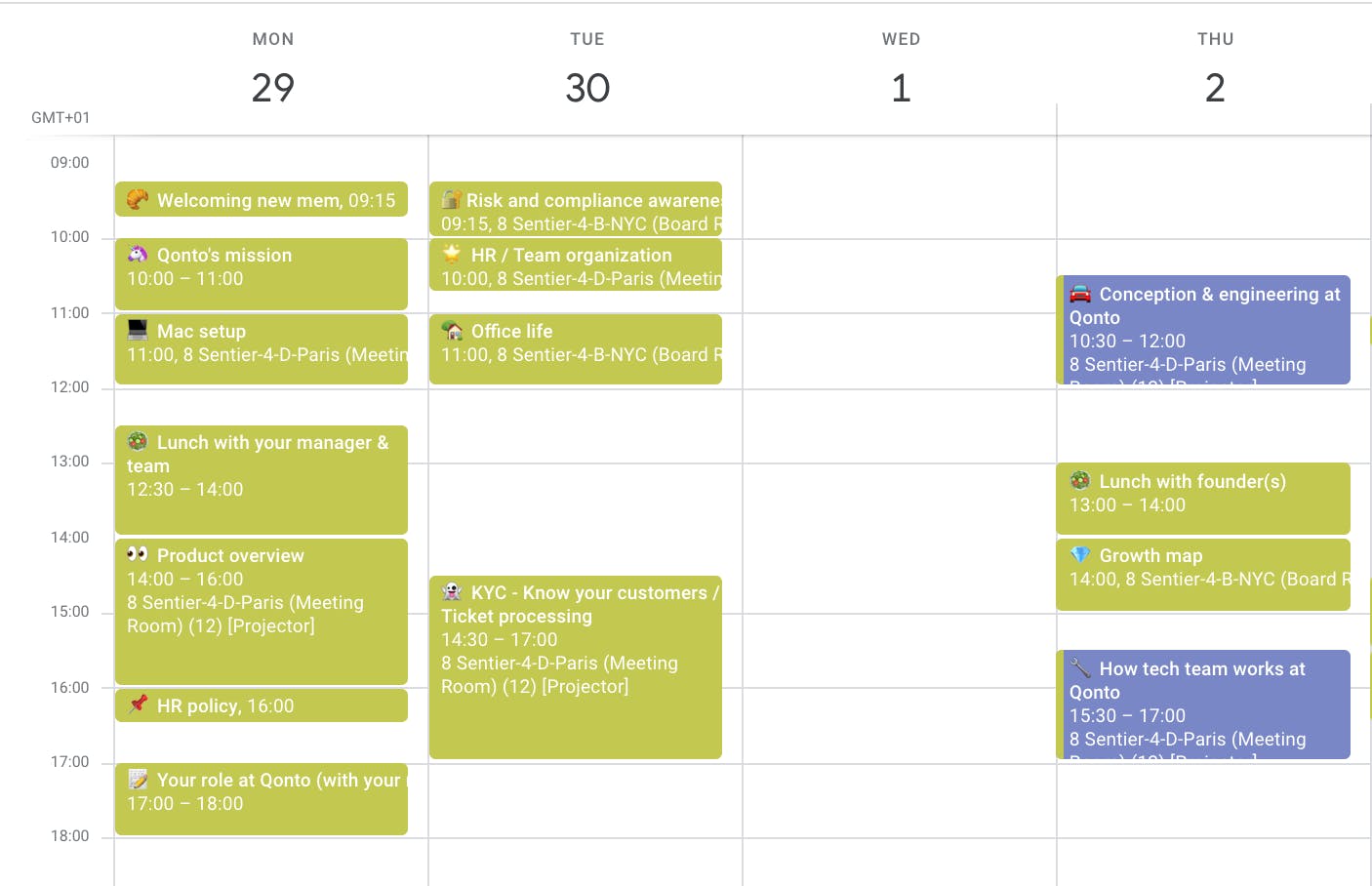 Live my life in the customer service
Every single newcomer put themselves in the shoes of a customer service agent for at least 2h30. There is nothing better to understand users' expectations and product issues!
Take the time to explain the organization
The more we grow, the more we wonder "who does what?". For new team members to be able to identify themselves, nothing beats a quick look at the horizon with HR to understand the teams' articulation and roles.
In addition to this meeting, we make it a point to have an up-to-date registry of employees (with pictures and small descriptions) on our intranet!
Have you met Alex and Steve?
Each promotion has lunch with Alexandre or Steve, the two founders of Qonto. An informal moment that allows them to speak and ask all the burning questions they might have.
After the onboarding
Two feedback sessions are scheduled after the arrival of an employee: one after one month with the manager and a second one after two months with the Head of People.
Through some very simple surveys and appointments, we make sure that everyone has all the necessary tools to succeed and feel good at Qonto. It's also a way for us to collect feedback in order to constantly improve!
In fact, we measure the satisfaction index and over the past year, the average has gone from 4.5/5 to 4.7/5 over the last six months!
Some feedback from "onboarded" people:
"The sessions were great: concise enough not to be drowned in information but detailed enough to understand the objectives and responsibilities of the different teams."
"What I liked the most was shadowing at customer service because I think it's the best way to learn how the company works and it contributes to the interaction with the different team members."
"Very nice to see that the founders are involved in welcoming newcomers."
To conclude, here are 3 good practices that have allowed us to build this onboarding with care:
1. Set a schedule
The program is the same for all newcomers, to ensure that everyone has a similar experience. This simplifies and automates the organization, but also ensures that all employees have a common and shared knowledge base. This does not prevent flexibility and the schedule can obviously be adapted, according to the manager's needs.
A summary note is sent to all newcomers, in which they can find all the elements that have been presented to them, to keep track of the vast amount of information that the newcomer must retain.
2. Involve the manager
The newcomer's manager must be involved in his/her onboarding. He/she is the one who organizes and leads the follow-up meetings to ensure proper integration. The manager is also free to add further meetings with other team members to the standard program.
3. Entrust this project to a referring officer
At Qonto, Camille - our Office & Happiness Manager - is in charge of onboarding. She has built, adjusted and optimized the process from the beginning.
The involvement of the founders, who are particularly sensitive to this topic, is also a key success factor.
Continuous improvement is an element of Qonto's culture, and onboarding is no exception, in fact, it is quite the opposite!
By following our intuitions, by testing different ways to do it, we found the right option.
What will onboarding look like at Qonto if we are 500, one day? This may be the subject of another article, but for this purpose, there are still many vacancies to be filled. So if you want to join a top team in a fast-growing company that is revolutionizing business finance management for professionals, go this way!