Admit it. Who hasn't wanted to understand the mysteries of transfer processing times. Why did your colleague get their salary 5 hours before you? Are your bank details cursed? 😱No, they aren't — read on to find out why not!
Working days, business days, inter-bank transfers... We thought we'd give you a few more details to let you in on the secrets of your bank transfers. 🤫
There are two types of bank transfer: 
First scenario: it's simple and stays in the family! These are also called intra-bank transfers. What does that mean? Well, that the two stakeholders have an account at the same bank.
Second scenario: the two stakeholders have accounts at different banks, so the money goes from one bank to the other. These are also called "inter-bank transfers".
First scenario: the funds change piggybank
Even if you suspect it's no coincidence, it just so happens that your supplier and you both have a Qonto account! This is the ideal scenario because the funds don't have to leave the bank. 
Qonto takes care of everything! When you set up your transfer, we update the balances of the two accounts in real time:
We debit the amount from Tom's account, 
and credit André's account with the same amount.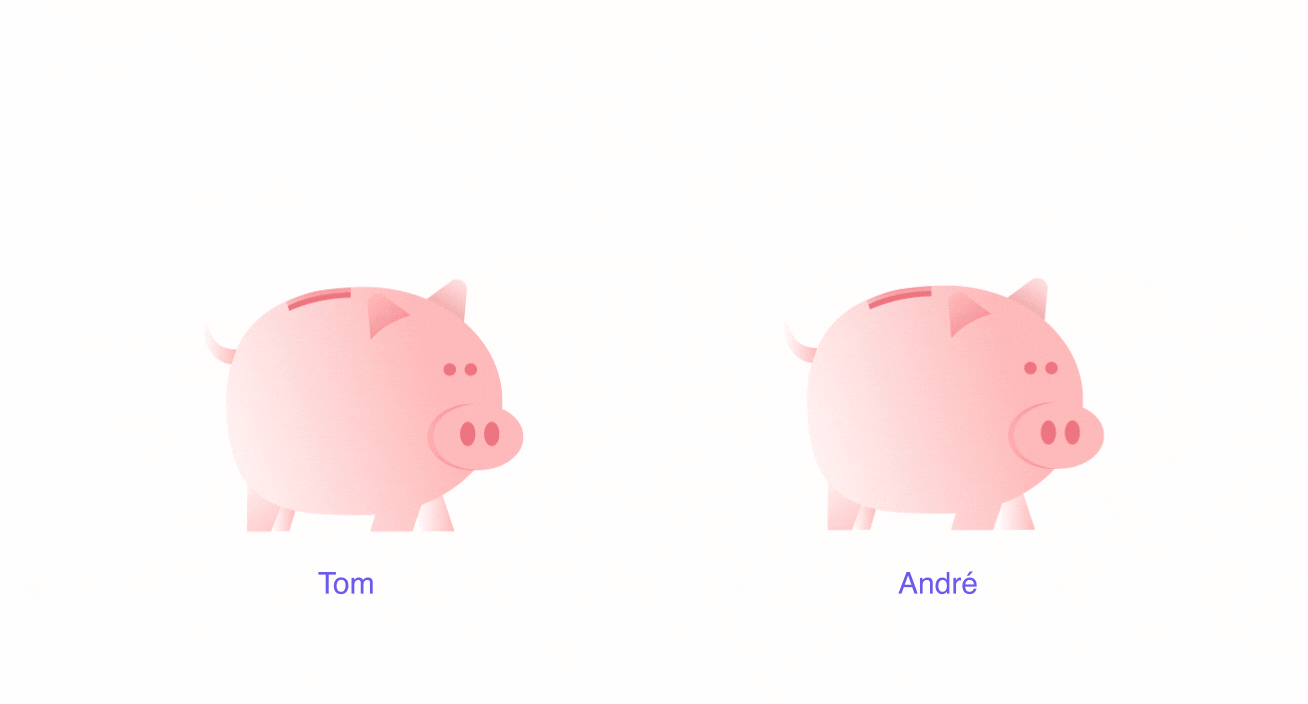 This is why transfers between Qonto accounts are free, unlimited and instantaneous. They are so instantaneous that unfortunately you don't have the option to cancel them from your interface if you make a mistake. But there's good news: you know the beneficiary's bank because you have the same one. A short e-mail to our customer services will resolve the issue. 🥰
Second scenario: the two accounts are not at the same bank
Before going into the details of this second scenario, we would like to come back to a point of paramount importance: where are your funds secured?
As you already know, Qonto is not a strictly speaking a bank but a Payment Institution. What does this mean for you? Well, it means we can perform your transactions but your money is not physically at Qonto — we never have access to it. All the funds deposited by our customers on Qonto are secured in a holding account at Crédit Mutuel Arkéa. 
Ok, but what's that got to do with transfer processing?
Well, each time you set up a transfer to your supplier who has an account at another bank, we store all this information in a dedicated file. Three times a day, Qonto sends this file to Crédit Mutuel Arkéa. 
Once Crédit Mutuel Arkéa retrieves the information, it sends the funds to your supplier's bank. Once this bank has retrieved it, it can deposit the funds into the beneficiary's account.
And what if you need to cancel a transfer to another bank?
As long as Qonto has not sent the file containing all this payment information to Crédit Mutuel Arkéa to initiate the movement of funds to the beneficiary's bank, you have the tools to cancel the transfer by yourself! 
You just need to click Cancel this transfer by accessing the transaction in question from your payment history.
If we have already sent the file, the simplest solution is to contact the beneficiary to ask them to refund the amount.
Now your transfers no longer hold any secrets for you!