As a business manager, you know that VAT and cash flow don't always see eye to eye. The reason for this is the delay from the time you collect VAT from your clients to the time you need to pay it. This delay may cause a lack of cash flow if, for example, you forgot to anticipate the payment and spent your available funds.
For this reason, it is imperative that you are able to plan for how VAT will impact your cash flow. You can also take some practical steps to avoid any unpleasant surprises; cue Qonto.
We've created a step-by-step tutorial to automate this task with Qonto in under 10 minutes!
Open multi-accounts to separate your VAT 📦
Qonto multi-accounts can help you set aside your VAT funds. Multi-accounts are accounts with dedicated IBANs which you can use to organize your finances as needed.
This way, you can set aside the VAT collected for your next payment and rest assured that you have sufficient cash flow. Simply set up a transfer between your accounts to add your collected VAT and withdraw the deducted VAT.
Today, we want to help you go a step further by automating this task, so you can avoid any unpleasant surprises. Never again will you need to worry about the status of your cash flow.
Automate transfers between your accounts to set aside your VAT ⚙️
💡 Our automation tool will help you organize your finances. Of course, your money remains available at all times; your funds are simply divided into separate accounts.
Before we begin, you need a Standard or Premium Qonto account, and you will need to open a first multi-account on your app. Give the account a name, such as "VAT payment".
Then, use Zapier, a no-code tool that enables you to automate tasks mainly by connecting apps with one another. For this task in particular, Zapier gives you access to a number of Qonto features, without you needing any programming expertise. First time using Zapier? No problem! We will take you through each step, one by one.
1. Log in to Zapier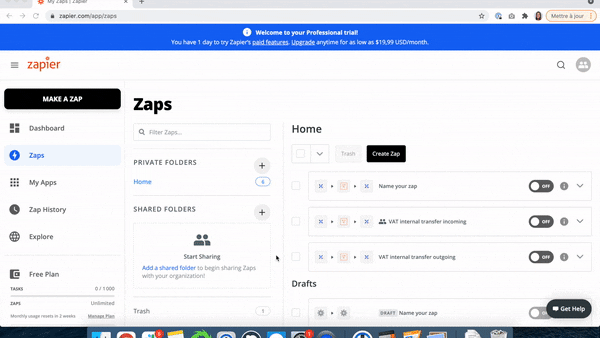 Go to Zapier and create your account, or log in to your existing account. Even with a basic free account, you can complete up to 5 automations.
Then, launch your first automation by clicking on Create Zap.
2. Set up the trigger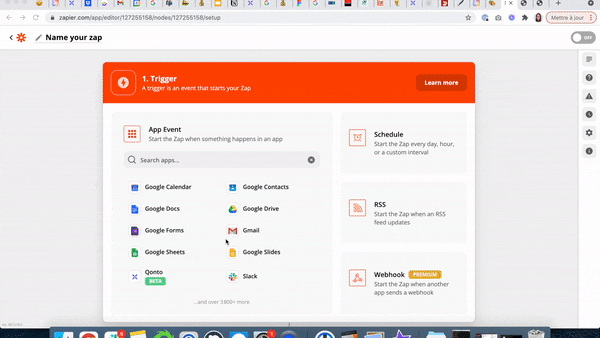 Begin by naming your Zap in the top left of your screen. Try, for example, "Transfer VAT due".
The first step for your Zap is to set up a trigger, which will enable you to complete a given action. Here, your trigger will be updated VAT information on Qonto.
In App Event, search for and select Qonto.
In Trigger Event, select Transaction Updated VAT. This means that data will be sent every time you allocate a VAT amount and rate on Qonto.
Now, connect your Qonto account by clicking Connect a new account, then enter your Qonto login information.
Add the IBAN for your main account.
Congratulations. Your trigger is ready! Test it by clicking Test trigger.
3. Filter by incoming transaction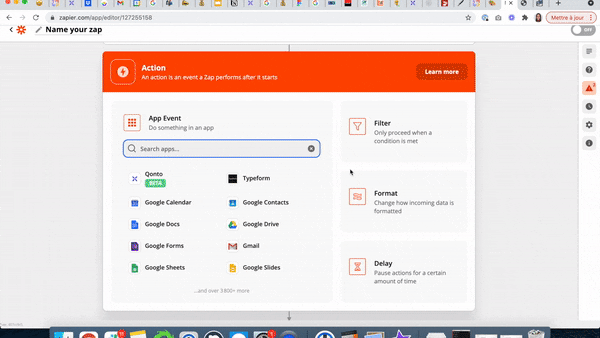 Since you want to add the payable VAT to your account, you now need to set up a filter to obtain only incoming transactions.
Click on the little + at the bottom of your screen to add an action, then select Filter at the right of your screen.
In Choose field, select side, in Choose condition, select (Text) contains, then in Enter or select value, type credit (all lowercase and no quotation marks).
4. Program the transfer to the VAT account
All that's left to do now is program your transfer!
To do this, click 3. Action, then select Qonto in the list of apps.
In Action Event, select Create internal transfer. Select your Qonto account.
Add the IBAN for your main account, then the IBAN for your VAT account. In Amount of the transfer, select VAT amount.
In Currency of the amount, enter EUR. Then, in Reference of your transfer, VAT Transfer - Label.
Your transfers are now programed!
P.S.: You can also create an additional Zap in the other direction, to refund the deductible VAT to your main account!
Then, simply switch your Zap (or Zaps) to On to launch your automation and set aside the exact amount you owe the tax authorities. We recommend, however, that you continue to monitor your VAT with your accountant.
We hope you enjoyed our tutorial and that it will bring you peace of mind!