If you were to rank your most frequent operations on your Qonto application, chances are transfers would be among the top 3, right? These repeated tasks no doubt add up by the end of the month, and can take up a significant amount of time.
If you love productivity and are always in search of greater efficiency, discover our new Qonto iOS mobile widget. What is a widget? A widget is a small module you can add to your phone's home screen. You can use it to navigate your apps or access information more quickly.
Transfers in under 15 seconds ⏱
To make life easier for iPhone users, we created a small extension of your Qonto application, just for you. Accessible directly from your iPhone's home screen, it enables you to send transfers in record time.
The next time you need to send a transfer, simply click on the widget to immediately open the configuration window for your transfer. All that's left to do is select your beneficiary and amount. According to our calculations, the transaction takes no more than 15 seconds, start to finish! See for yourself: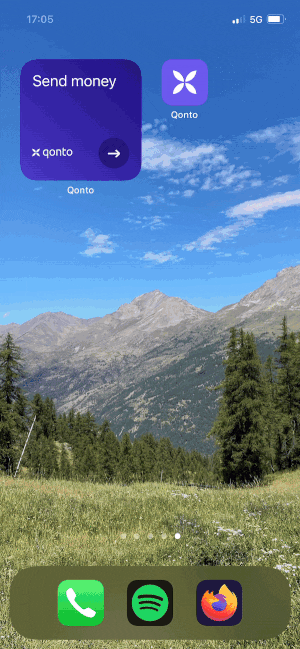 PS1: In case you send a transfer a bit too quickly, rest assured. We have also improved our transfer cancellation feature. 😉
PS2: One last thing! If you enjoy using your phone's dark mode, your widget adapts to your display options automatically. 👻
Combine productivity and design in your transfers 🤩
To send transfers at the speed of light, you will need the Qonto iOS mobile application. If you have yet to install it, now is the time! The mobile app enables you to further optimize your financial management and save time.
Then, from your Apple phone, simply open the home screen, press and hold a widget or an empty space until the app icons start jiggling. Then click the + button in the upper left corner. Finish by downloading the Qonto widget.
Then start reaping the benefits!