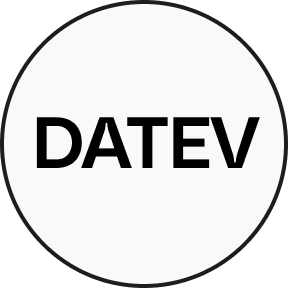 DATEV-Schnittstelle
Synchronize your transactions between Qonto and DATEV
Tired of having to think about exporting your transactions to DATEV? The integration DATEV-Schnittstelle synchronizes all your transactions between Qonto and DATEV Unternehmen online. ☝️ To also synchronize your receipts and invoices between Qonto and DATEV Unternehmen online, you will have to set up the "DATEV-Schnittstelle für Belegbilder". To know more about the integration, click
here
.
What our users are saying
"The integration between Qonto and DATEV was very easy. Thanks to this integration transactions are processed immediately in Datev, which greatly simplifies the entire accounting process. This gives us much more time to focus on our core business, selling mobile homes."
- Jurn Gijbels, Managing Director - Mobilheim
About DATEV
DATEV eG is the software house and IT service provider for tax consultants, auditors and lawyers and their mostly medium-sized clients.
Made by DATEV
Qonto confirms that this integration meets our verification requirements