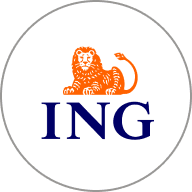 ING
Flexible long-term loans to suit your needs
Looking to grow your business further with a loan? Qonto is partnering with the global bank ING to offer long-term loans to customers looking to start new projects or investments. These loans are designed specially for entrepreneurs and business owners, with a completely online registration, flexible loan terms, and special or early repayments free of charge.
Offer
ING's loans range from €10,000 to €750,000, and are paid out in monthly instalments. Repayment periods are from 12 to 60 months. Applying for ING's loans on their website can be done in 3 easy steps:
Submit the required documents. This takes less than ten minutes.
ING will process your documents and get back to you with further information. If no more documents are required, you will receive the decision concerning your credit within 48 hours.
If the credit proposal is correct and you approve of the conditions, conclude the contract. You can do this online in a few minutes or by sending it to ING by post.
Eligibility
Before applying for a long-term loan with ING, please make sure your company meets the minimum requirements:
Your company has been in operation for more than two years
Your turnover in the previous financial year was at least €50,000
Your company HQ is based in Germany
Your company falls into one of the following categories: GmbH, GmbH & Co., KG, OHG, KG e.K, Einzelunternehmen or Freiberufler About ING
Supporting over 9 million customers, ING-DiBa AG is one of Germany's top-tier banks. They focus on checking accounts, mortgage lending, savings, consumer credit and securities. In the Business Banking segment, ING grants loans to small and medium-sized enterprises. In the area of wholesale banking, they offer banking services for large, international companies. With over 6,000 employees, ING is represented in Frankfurt am Main (headquarters), Berlin, Hanover, and Nuremberg.
Recommend by Qonto
Qonto works with some partners to offer you the most relevant tools and solutions for your activity