This article was first published on Medium on December 17, 2018.
Launched in July 2017, Qonto, the business finance management solution for companies and freelancers already attracted 25,000 SME clients 🚀
This super-growth is due to an innovative product, a great customer service and a structured and efficient Growth Team.
Last month, we organized a special "Growth" meeting with several members of the Qonto team, who answered all the questions during a "Ask Me Anything" session!
You can watch the replay of the meetup here:
We have chosen 3 rules that we share with you here:
1. Get organized 🔼
"Growth" is a relatively new discipline, so it is difficult to recommend a single model.
We could give you a lecture on the independent model of Facebook and Uber or the functional model of Pinterest 🤓, but we preferred to talk to you about what we did at Qonto, what worked (and what didn't).
At Qonto, Growth and Marketing are one single team to tackle the growth challenges determined by the pyramid below (the famous AARRR model):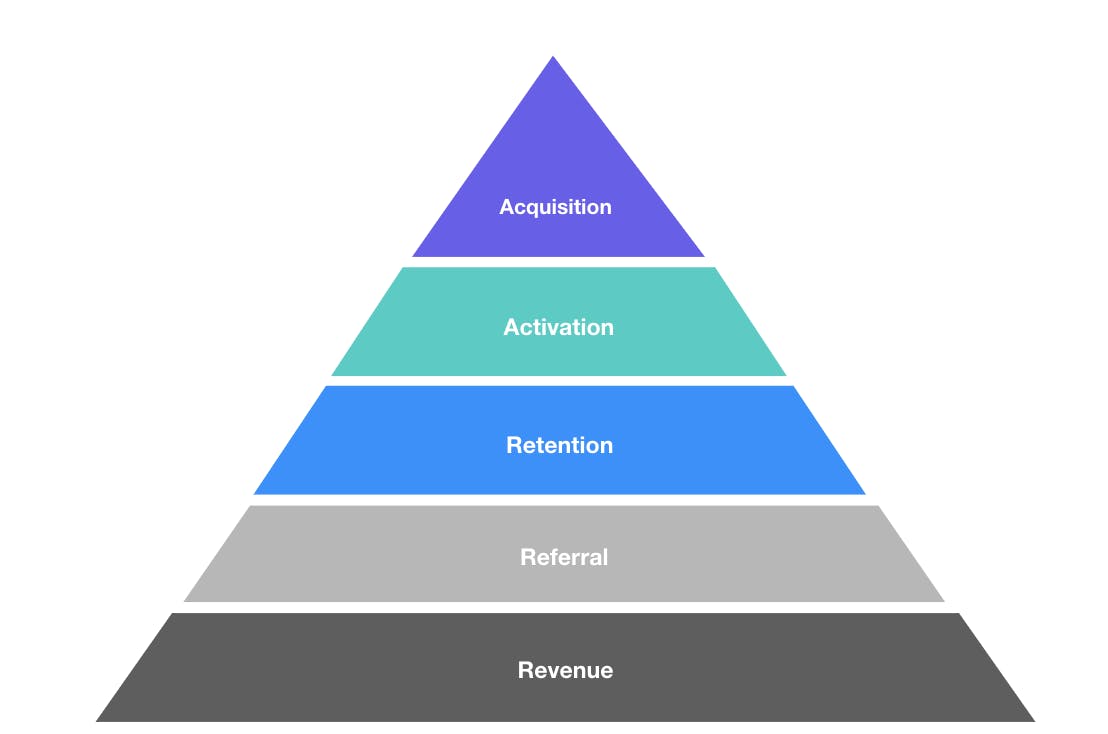 Anh-Tho, Growth VP, explained how she structured her (15 people) team into 4 areas of expertise:
Marketing Performance
CRM & Revenue
Growth Engineering
Communication & Partnership
We have decided to integrate a technical team into the Growth team to be quicker in managing our projects. We can therefore autonomously build a tracking system, create Marketing Automation campaigns or optimize our landing page. It also helps us to recruit talents with marketing skills.
International expansion is also a true organizational challenge. Our product had already been built for international markets (in French and English) but translating the site requires adapting and localizing skills. The integration of international teams is also a new challenge!
Each area has its role in the European expansion and shares best practices with local teams to implement the first actions in each of the markets.
2. Forget about the "hack" myth 😈
If you Google "How to do Growth", you will of course find "hacks" and "tricks" to win customers very quickly.
Scrapping, cold emailing, cold calling, etc. There are many "Growth Hacking" techniques.
At Qonto, we quickly realized that these techniques were short-term solutions and did not meet what can be expected from a "serious" service like Qonto, which must therefore inspire trust.
It also raises the question of the community that we want to build. We would rather have a community that knows us and trusts us.
Our "Sales" team obviously makes calls but always following an introduction.
If you want to build a sustainable and healthy growth, focus on channels and actions that allow you to do some "scaling"!
3. Do some tests and again, and again! 💪
The first rule that the growth team has set for itself is to validate the need before deploying any project.
Example: our referral program!  
It seemed obvious to launch a program that would allow our most satisfied users to recommend Qonto and be rewarded for it.
But this project is complex:
Define the compensation system for the sponsor and the sponsored company
Find the amount of compensation for each person
Define the distribution strategy of the program
Our team created a first "scrappy" version of the program: a landing page allowing the sponsor to enter the email addresses of the sponsored companies.
Once the addresses were collected, a message was sent with a unique code for all sponsored companies and a unique code for sponsors.
The system was not perfect, but it had been created in only 2 weeks!
Once the device was tested, we were able to collect feedback from users. The need was therefore validated and allowed us to build the 2nd version with our technical teams to set up a much more sophisticated and scalable system.
Similarly, we do a lot of A/B Testing on our site to optimize the conversion of our users.
Our "test & learn" method has allowed us to test several acquisition channels, stack them and optimize the most efficient ones.
Having tested in France allows us to transpose best practices internationally since we will launch 3 new countries in 2019: Italy 🇮🇹, Germany 🇩🇪 and Spain 🇪🇸 !
If you want to join an ambitious Growth team of a super-growing project, there are still 17 open positions in our team 🚀 !
You'll find all the positions here!