This article was first published on Medium on December 15, 2017.
4 new features have appeared on Qonto these latest weeks: personalized dashboards, account and card creation via iOS and automatic transaction import into Jedeclare.com.
These features complete our offer, to make Qonto THE business finance management solution for companies and independents workers.
Dashboards to better monitor your finances
Nos clients peuvent désormais retrouver un onglet "Activité", directement dans leur interface.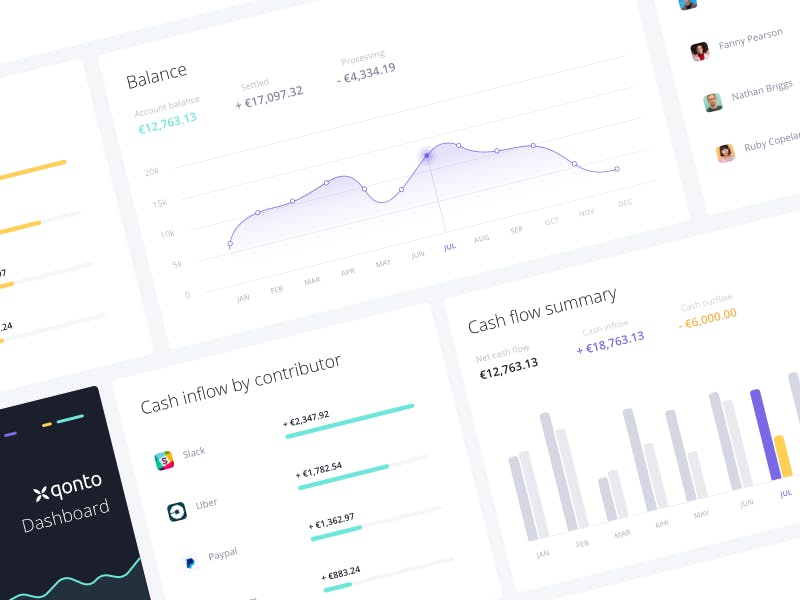 It contains customized dashboards to effectively monitor your finances and have a clear view of your cash flow at a glance.
In this tab, 4 charts allow you to view key data:
Account balance: the overall evolution of the account balance,
Cash flow summary: month-specific cash flow details, most important transactions, etc.
Cash inflow: incoming cash flows by source,
Cash outflow: cash outflows, by users or category.
These charts are available for the following positions: account holder, administrator and external.
These are only visible on the web interface for now; the dashboards will soon arrive on mobile apps!
New on iOS
Creating an account with your smartphone
We already knew how to create an account at Qonto 100% online. 😉 We are going even further with this new feature: it is now possible to create your Qonto account directly on your mobile!
The creation of a Qonto account via a smartphone is currently for the following legal forms: micro-enterprises, liberal professions, SASU and EURL. For the others, you must continue to register via the web site.
Already available on iOS app, this new feature will arrive in the upcoming weeks on Android, stay tuned!
Creating a card
As we know that our customers are not always on their computers to create their team's cards, we make their lives a little easier thanks to the creation of cards directly via the iOS app!
Creating a card is easy:
Click on the card icon in the navigation bar,
Click on the "+" symbol at the top right,
Select the type of card you want (physical or virtual),
Choose the card features.
You're done!
The card creation on Android will be available very soon, we will keep you informed!
Automatic import of banking transactions into Jedeclare.com to save time!
At Qonto, we think that our customers should not spend too much time on tasks that can be automated, so that they can focus on their core business.
That's why we worked with Jedeclare, so that our clients can automatically import their transactions into their accounting software.
Used by more than 9,000 accountants in France, with Jedeclare you can retrieve your transaction history on a given perimeter and integrate it directly into any accounting software.
This will make Qonto customer accounting much simpler and faster! This will please their accountants and CFOs! 😉
Lots of good news in the coming weeks. Don't miss them and stay tuned!
Qonto news is also on our social medias: Facebook, Twitter, Linkedin and Instagram.