Summary
How to automate your business processes without coding with Zapier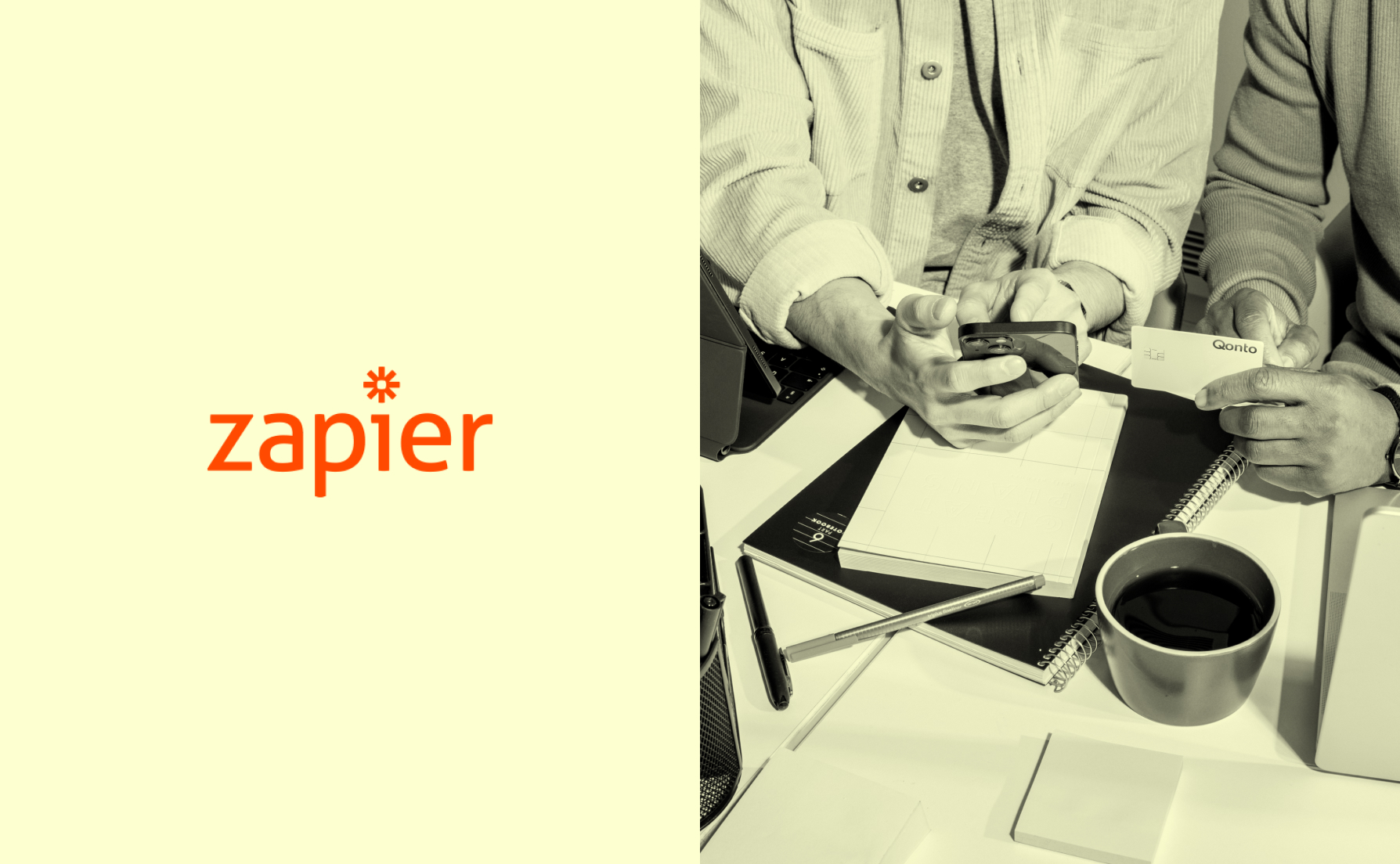 Welcome to the no-code universe!
A few months have passed since we first launched
Connect
. Time flies. While we can't stop the clock, we made it our mission to help you save your precious time.
How? By developing a connection to help you automate all your business management tasks (receipts, transactions, accounting, etc.) that occupy your time every day. Best of all, no coding expertise is required. Welcome to the no-code universe!
Discover Zapier x Qonto today and catch a glimpse of all the possibilities that automation has to offer.
Introduction to automation 🐣
No doubt we have your attention. But there's just one problem: you have no idea where to begin. Don't worry, everyone has to start somewhere.
Zapier and its 2,000 integrations are ready to welcome you with open arms as you take your first steps in the world of automation. Gmail, Mailchimp, Google Drive, Airtable... Your choices are endless when you connect your Qonto account to Zapier to automate your business processes.
And all without having to write a single line of code.
With Zapier x Qonto, automation is accessible to all. Noam Say - Expert Zapier & Airtable
Your developer friends will be disappointed that you no longer need their services. 🙊
No-code is a gateway to a whole new world, a world in which the automation scenarios are abundant: a new transaction, a new transfer, customized labels updates, an impact on your balance, and so much more. The list is (very) long!
Some users have even reached the expert level, such as Noam Say, a Qonto customer since the early days and a long-time Zapier user.
I was already using Zapier thanks to the Qonto API, which is super easy to use, but now it's even better. Noam Say - Expert Zapier & Airtable
Let us be clear, however: here, you don't need your API key or token to reap the benefits. So breathe a sigh of relief and start asking how it works exactly.
To answer your question, it's quick and easy. Connect your Qonto account and Zapier with just a few clicks, directly from your Zapier account. Check out this article for a step-by-step guide.
Automation without limits 😎
You know what they say: love knows no limits. The same is true for automating your business processes. The possibilities are infinite!
Until now, all you could recover were your transactions, but today, with all these triggers, there are so many uses and possibilities.Noam Say - Expert Zapier & Airtable
Need a little help to get started? Here are a few automation ideas:
An oldie but a goodie.
When a transaction falls below the alert threshold you set, your CFO is notified instantly by email. Are you wasting time chasing after your teams' missing receipts? You can finally leave your trainers in the closet; an automatic email will remind stragglers for you.
#2 Customize your finance reporting 💰
By connecting your Qonto account to Airtable, you can create a dashboard to manage your finances like a Formula 1 driver. As soon as a new transaction appears on your Qonto account, it shows up directly on Airtable. How does this benefit you? You can use all the advantages of Airtable by creating a dashboard and associating each of your transactions to a specific date. You know every cent that is credited to your account, every month of the year. You can also go a step further and include cash outflows and, thanks to a magic formula (okay fine, subtraction), view your monthly balance. With this kind of reporting, it's impossible to make a wrong turn!
It takes less than 5 minutes to connect Qonto to Airtable through Zapier. And you don't even have to be a Tech. Once all your transactions have been imported and synchronized with Airtable, you can assign categories to your transactions, automate this process, create graphics... Your imagination is the limit!Noam Say - Expert Zapier & Airtable
Psst: Has this automation piqued your interest? Let's get started! In this video, Noam Say will show you step by step how it works. Good things come in pairs, so enter the following code to access it for free: QONTO2020 (available until December 31st, 2020).
#3 Centralize your receipts 🧾
If you're the type to stash away all your receipts, we have the perfect automation for you. How would you like to centralize your receipts in one place as they come in? When you add your receipts to your Qonto account, they are uploaded to a Dropbox folder automatically. Say goodbye to those long afternoons trying desperately to find that pesky receipt that should be right where you left it.
#4 Fill in your Google Sheets automatically 🤖
Since automatic VAT detection was introduced to Qonto, you have saved so much time. Now imagine how many precious hours you would save if, as soon as a new VAT rate was detected, it was added to a spreadsheet to calculate your VAT return automatically. One can only dream, right? Well, a simple automation can make this dream come true.
Are you feeling inspired? Is your head bursting with ideas on ways you can automate your finances? It's high time you let your creativity shine. The Connect team has been wondering which application you will choose as your first Qonto account connection? To feed our curiosity, write us at 👉 connect@qonto.com
ABOUT THE AUTHOR
Our Product Marketing Managers have one simple goal: to help our customers get the most out of Qonto's many tools and features.
Subscribe to our newsletter
Enter your contact details to get the latest news and trends to help boost your business. 
Ready? Let's go.
Whether it's to examine the specific needs of your business, or to go over the benefits of Qonto's tools and features, we're here for you.