Summary
Pay in a flash with Google Pay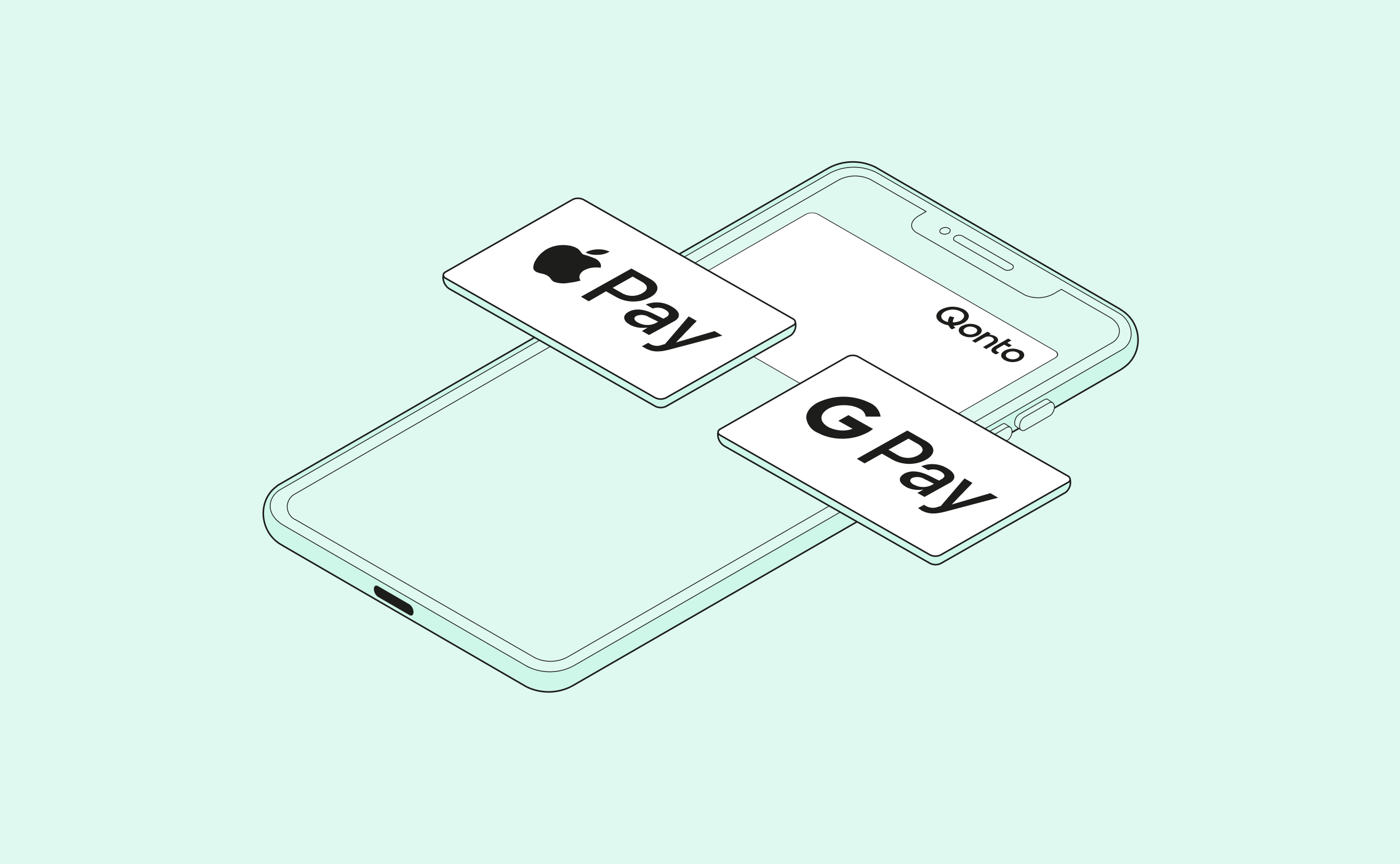 Google Pay is now available with all your Qonto cards!
You've probably noticed that more and more people pay by tapping their phones at checkout instead of getting out their bank cards. Intriguing, right? What if you could do the same for your business cards? Well, we have good news: all your Qonto cards are now available for contactless payments on all your Android devices.
Want to learn more? We have the answers to all your questions. Read on to put any lingering doubts to rest.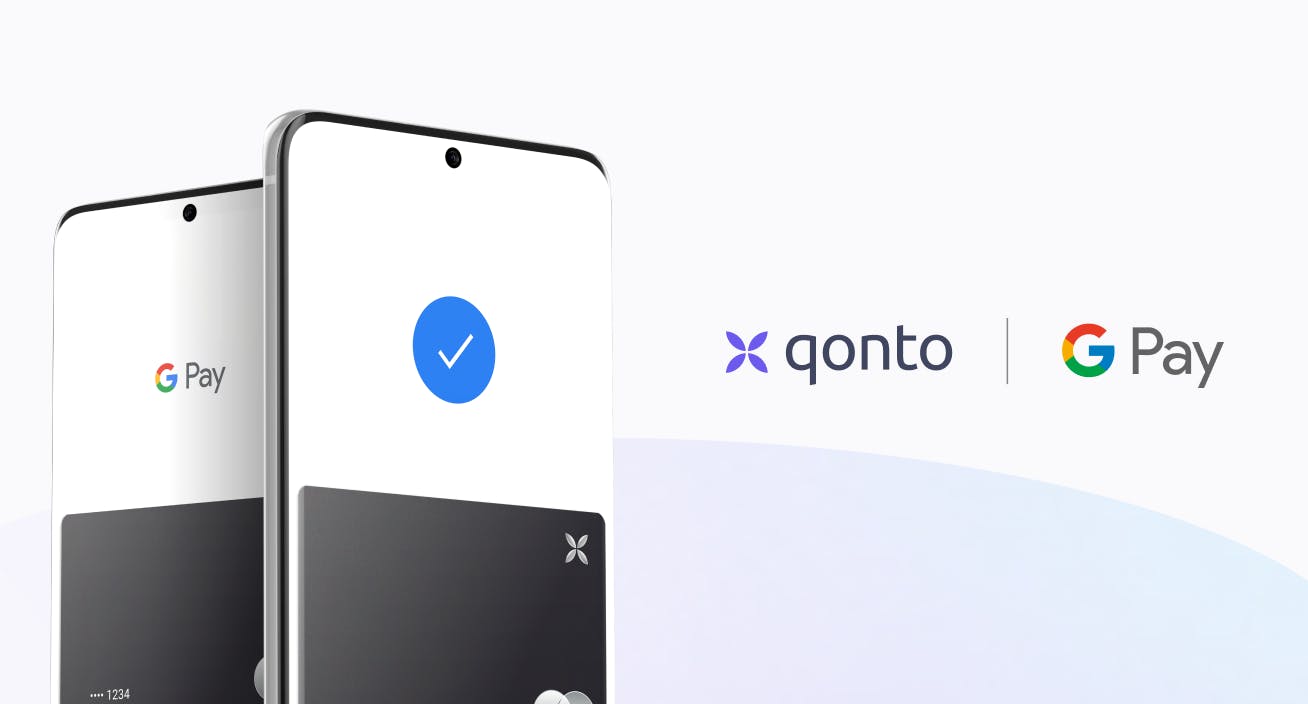 Fast payments at your fingertips
Imagine: You're at the cash register waiting to pay for your lunch to go. You're scrambling to find your wallet, and the people in line behind you are getting impatient. What if you could simply use the phone in your hand to pay your bill? Today, you can. No more wasting time looking for your bank card. Simply place your phone over the payment terminal to pay for your meal!
With Google Pay, you can get rid of the clutter. Whether in a store, on the web from your Chrome browser, or in your favorite apps, simply add your physical, virtual or Instant Qonto cards to Google Pay.
Do you realize what this means? You'll be able to pay for that new software you've had your eye on for your team and install it, all from the comfort of your sofa (thanks, remote work). When you pay for something on your computer or tablet, you no longer need to get up and look for your card. Your payment information is already saved in Google Pay and appears automatically when you select your preferred Qonto card.
As an added bonus, there is no need to create customer accounts on new websites you use to make purchases. With Google Pay, you enjoy fast, uninterrupted payments, even if it's your first time visiting a site.
One-time set-up, payments anywhere
Google Pay is compatible with all Android devices (yes, every single one) equipped with Android 5.0 or higher. Pay from your phone, tablet, or even your smart watch. Adding your Qonto card to Google Play is fast and easy. Start by updating your Qonto app with the latest version available on the Play Store. Then, simply scan your card from your Qonto application. For more details on how to set up Google Pay, click here.
Are you ready? You can now make contactless payments in store. Look for the contactless symbol or Google Pay icon on the payment terminal. You don't even need to open the application. Simply activate or unlock your phone and hold it near the reader until you see the check mark appear.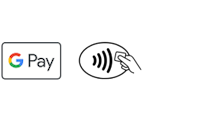 Want to go even further? Open the Google Pay app on your smartwatch, and place it against the payment terminal. You can also make online payments on a long list of websites and applications compatible with Google Pay.
All the same benefits as your bank card, and then some
Just as secure as your bank card
Google Pay offers the same security as your bank card, but with greater speed and convenience, so you can go about your business with peace of mind. Are you concerned that your money is at greater risk of being stolen with contactless payments? Don't worry! You must first unlock the screen on your device before you can pay for purchases of over €50, the limit set in France for contactless payments. In addition, when you pay in-store, your virtual account number is shared with the merchant instead of your actual account number. This helps to keep your account information safe.
"What happens if my phone is stolen?" No need to panic. If your phone has been lost or stolen, simply lock it remotely and even erase your data with the Find My Device tool. Peace of mind, like we said!
Google Pay and Qonto guard your account, with a secure payment system that protects and encrypts your banking information. Your card number will never be shared.
Continue using your card services
No need to take the card out of your wallet. Dear X card holders, you can continue using your dedicated concierge service for your next hotel reservation, and pay with the same limits that apply when using your card. Of course, you will also benefit from your exclusive Qonto insurance - with compensation equal to your damages. Because accessing the same services when you pay with your phone is so much more convenient!
Discover the perks of the Google Pay app
To make your daily life even easier, the Google Pay app has a few surprises for you.
Do you have loyalty cards or gift cards that you always forget to use? Add them to the Google Pay app to keep them handy alongside your bank cards. When at the cash register, simply select the card of your choice, and scan the barcode that appears on your screen.
Are you impatiently waiting for the health crisis to end so you can organize your next team-building seminar or business trip? You can save your plane tickets and event tickets in the app by pressing the Save to Google Pay button after making your purchase on a partner website.
It is our top priority to simplify your professional finance management processes by offering you a faster, easier purchasing experience. The future of payments looks bright, and we are proud to bring you along on this journey.
ABOUT THE AUTHOR
Our Product Marketing Managers have one simple goal: to help our customers get the most out of Qonto's many tools and features.
Subscribe to our newsletter
Enter your contact details to get the latest news and trends to help boost your business. 
Ready? Let's go.
Whether it's to examine the specific needs of your business, or to go over the benefits of Qonto's tools and features, we're here for you.