In case you haven't heard yet, Menu Du Jour is an app that shares news and daily menus from restaurants in your area and all across France. 
Every day, thousands of users log in to their app to uncover dining deals nearby. But that's not all. More importantly, Menu Du Jour provides users with discounts and reimburses you part of the bill. It's easy! You reserve a table at that lovely little Italian spot around the corner via the app. You enjoy your meal and pay the bill. Simply send a photo of the bill to Menu Du Jour, who will then reimburse you for a portion of your cheese rigatoni!
🦸‍♂️ That's where Qonto comes in!
The company has been with Qonto for 10 months now. Menu Du Jour's primary motivation for joining us on this venture is our bulk transfer feature, which it uses daily to treat foodies to a great deal.
"Qonto's bulk transfers are a core part of our business model. I was looking for a finance management solution that would allow me to reimburse all our users in a timely manner. My conventional bank simply wouldn't allow it, or it was always too expensive or overly complicated."
Vincent Veyrat-Masson
As you may know, thanks to our bulk transfer feature, our customers are able to pay hundreds of recipients in a single click. If you haven't tried it yet, you are just one click away from a spike in productivity!
But saving time is just one of the many advantages of bulk transfers. They also make for a more secure transaction when sending hundreds of transfers. Everything is centralized in a single file, so you can quickly review all the transactions and reduce the risks associated with entering each transfer manually.
"We need to send thousands of transfers a month. Before sending the bulk transfer, I take a look at the exported file for a few final checks."
Vincent Veyrat-Masson
Did someone say bulk transfers?
With Qonto, you can send bulk transfers from XML files. Most payroll solutions (like PayFit), as well as standard tools, are able to export this file type. 
1- Go to the Transfers section of your Qonto app, then click on Bulk transfers. 
2- Upload the XML file you have previously prepared or exported from another tool. 
3- Specify the expense type and schedule this bulk payment for a later date if needed. 
4- Complete a final review of the recipient information entered, and confirm the payment. The total amount is displayed at the bottom of the screen.
☝Good to know
All of the new recipients will be added to your list of recipients automatically.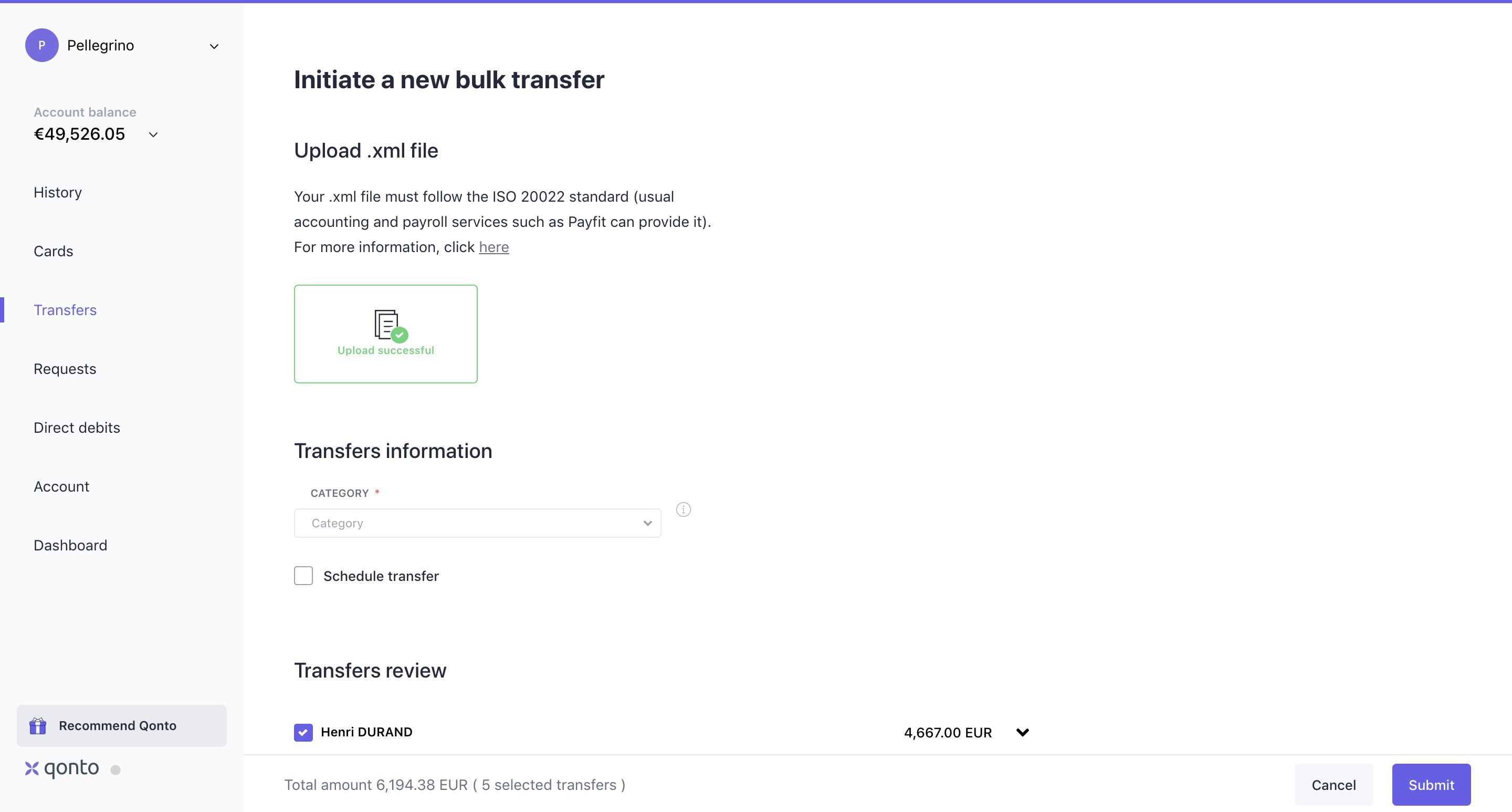 Do you, like Menu Du Jour, sometimes need to send a large number of transfers quickly? Benefit from Bulk transfers and streamline your payments!
☝️ Since November 2020, your bulk transfers have been multiplied by two! Before, you were able to send multiple transfers to 200 beneficiaries. Just like your business, Qonto is constantly evolving and adapting to meet your needs. Today, you can prepare .XML or .CSV files to send up to 400 transfers.