" The Qonto Way helps me to organize my work method in search of continuous improvement."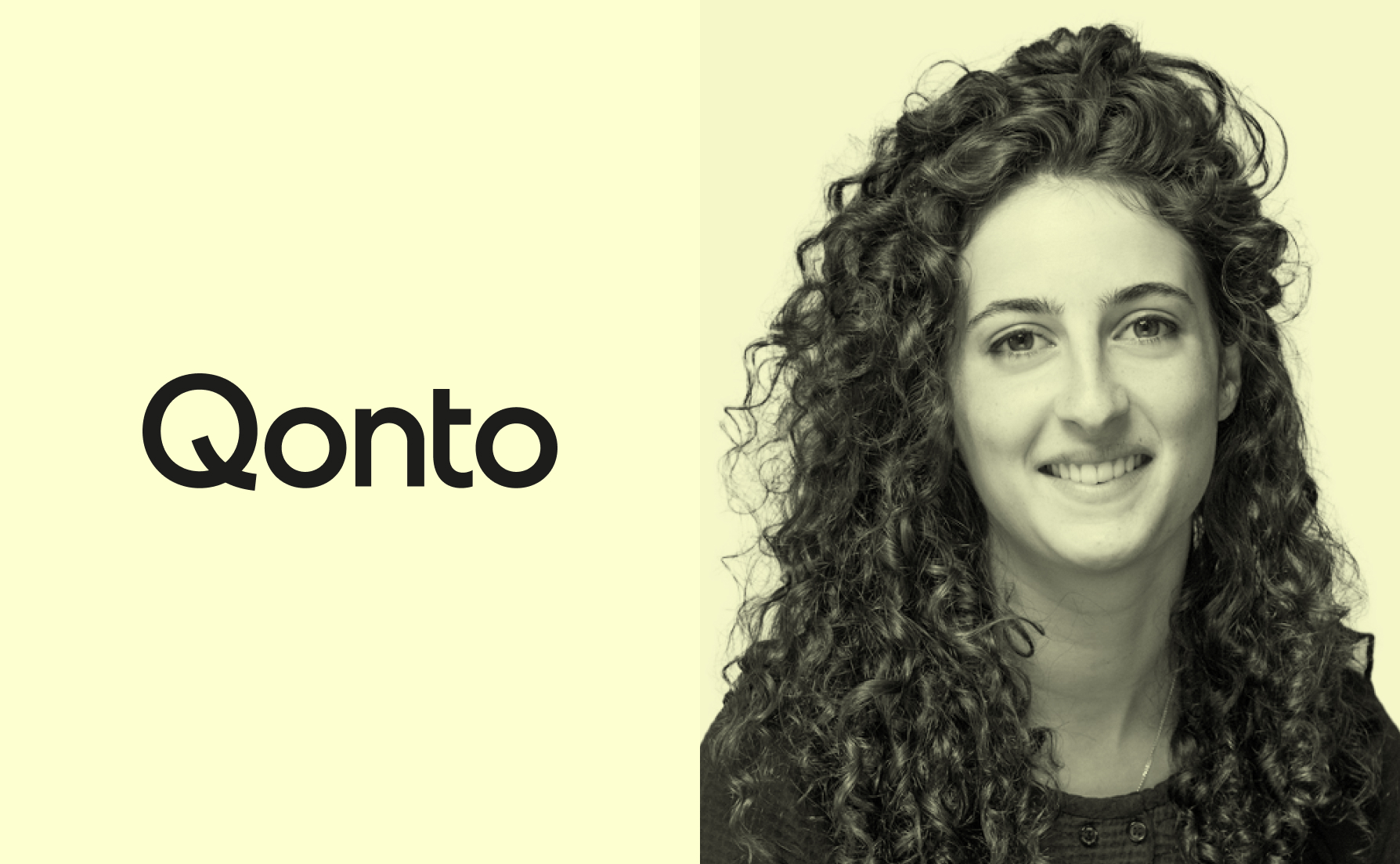 Read Ghita Sqalli's interview, Product Marketing Manager at Qonto.
Discover our Qonto Insiders of the month: Ghita Sqalli, Product Marketing Manager at Qonto.
1. What did you do before joining Qonto?
I joined Qonto in November 2020, after having completed my studies in International Business as well as several experiences in the world of start-ups and Tech. More specifically, after receiving a Bachelor's from ESSEC Business School and a Master's in Ireland and Brazil, I finally settled down in London, where I spent 4 years. My first job there was with a start-up in the Rocket Internet group, then at Google, as part of the Product team, where I worked on YouTube advertising.
I then stepped into the world of Fintech and joined RedCloud, an English start-up that develops mobile payment solutions in countries where the banking sector is not accessible to all. I wore many hats there, from Product Marketing to Marketing and Pre-Sales. I had the opportunity to present the solution to prospective clients in Nigeria, Argentina and even Vietnam. This incredible experience was a logical step for me, as I had always been interested in Fintech. I grew up watching my grandfather in Morocco go to the bank to withdraw his weekly budget in cash, only to store it in his closet at home! I wanted to work in the field that could improve his daily life.
Before joining Qonto, I even tried my hand at entrepreneurship by creating my own online brand of Moroccan slippers! This experience brought together many of the tasks I do everyday in Product Marketing, including launching and positioning a brand, storytelling and content production. I also faced the same administrative barriers that all entrepreneurs confront, which helped me understand all too well the real opportunity that Qonto creates for entrepreneurs on a daily basis.
2. Why did you join Qonto?
Since returning from London, I was looking for my first experience as an employee in France. I was specifically looking for a company with close ties to the Anglo-Saxon culture: an international culture in which I could continuously learn and interact with people from different backgrounds. The interviews confirmed for me that I was in the right place.
I had heard a lot about Qonto on the French start-up scene, and my impression of the company was positive. While doing my research, I stumbled upon the Qonto Way, an inspiring idea that really spoke to me. This was made even more clear when I had my first interview with Marc-Antoine, our Chief Product Officer. He was able to illustrate the Qonto Way with concrete examples that the company applies every day.
3. How would you summarize the recruitment process?
I was very impressed with my recruitment process at Qonto: extremely fast and smooth. My recruiter was very quick to answer me and eager to move forward the process. With other companies, I had to wait 4 days for a response, but my Qonto recruiter called me back the same afternoon to provide me feedback. I found this extremely reassuring as it showed a very proactive mentality as early as the recruitment stage. Why slow down the process and make candidates wait, when you can settle the matter quickly?
3. What stood out to you about the onboarding process?
My onboarding experience was intense and engaging, especially when you consider that it was all done remotely due to Covid. It was great to have the opportunity to follow training sessions with the founders, Steve Anavi and Alex Prot, who presented the vision of the company and the Qonto Way in more detail.
I also appreciated how people take the time for virtual coffee breaks and to introduce me to their roles, starting in my first week.
4. Tell us about what you do as Product Marketing Manager at Qonto.
As Product Marketing Manager, I am responsible for launching the steady stream of new features and products at Qonto. We have wonderful Product and Tech teams who create ever-more innovative features. My role is to ensure that all our existing and prospective customers are aware of these features and their benefits, and to inspire customers to want to use these features. What good is a great product if no one uses it?
In practical terms, I work every day with the various teams to identify the Go-To-Market strategies and communicate about these new features via different outlets. The Product Marketing Manager's role is especially central, as we work with the majority of the company's teams: Product, Marketing, Tech, Sales, Design, UX copy, Customer Support, to name a few! This requires extensive project management skills, as we must keep all these teams on the same page for each and every feature launch.
I also organize interviews with our users and potential customers to better understand their perspective and to ensure that we are meeting their needs as much as possible. Finally, I oversee the production of the content that will accompany our product launches, such as blog articles or emails.
5. What are the qualities required to be a successful Product Marketing Manager?
The Product Marketing Manager is at the crossroads of the Product and Marketing teams. You therefore need qualities such as strong coordination and communication skills to help bring teams together and lead successful projects. Basically, our main concern is producing content to convince customers to use our products. To do this, we need to put ourselves in their shoes as much as possible. Empathy and communication skills are thus essential to ensure we can reach out to existing and future customers effectively. Finally, I would say you need to have a way with words, as they take up most of your day!
6. How would you summarize your day-to-day life as part of the Qonto Product team?
In general, my days are spent coordinating the launch of new products and features with several teams at the company: we ask important questions, we coordinate, and we plan ahead to ensure the success of each project. I set aside long time slots in the morning to produce content, which demands the utmost concentration!
7. What has been your biggest challenge and/or greatest success as Product Marketing Manager?
Right now, I'm working on launching a new product that promises to be very useful for our customers and to open up new markets for us. I can't say any more just yet, but you will learn more soon! My objective is to make the launch a success and to get the entire company onboard to work together to deliver the best possible product.
8. How does the Qonto Way influence your work? What do you like most about this method?
At the end of my first week at Qonto, I talked to a friend about my first impressions and my initial experiences at the company. I was so impressed by the Qonto Way working system that I even opened up my computer to show her in detail what it looks like to have a company based on visual management. At Qonto, we work with "kanbans", a system taken from the Toyota Production System, which I had never used before. It truly has revolutionized the way I work. I recently applied this model to my daily to‑do list, and I love the visibility it gives me!
My biggest challenge today in applying the Qonto Way to my work is what is known as "One Piece Flow": the concept requires you to finish your current task before moving on to the next. This process really hits home for me, and I really hope to get there, but honestly, I continue to handle multiple tasks simultaneously.
9. If you could speak to future Qonto candidates, what would you say?
If you are hesitant about joining Qonto, ask yourself if you want to learn about business and working methods. I would say this is the most differentiating point compared to my past experiences: the idea of organizing your work method in search of continuous improvement. This mentality is hugely beneficial and very exciting. If this is something you are looking for in your next position, rest assured you will find it at Qonto!
10. Do you have a fun anecdote you would like to share about your time at Qonto?
I joined Qonto at the end of the year, during the lockdown, and I was impressed to see that each of my colleagues received an advent calendar in the mail, sent by Qonto! I saw them posting photos of their calendars proudly on display in their living rooms. How disappointed I was to not have received my calendar, given that I had just joined the company. I'm happy to report that I did eventually receive my calendar! Albeit, the season has come and gone, but it's still a joy to open up one of those little boxes and enjoy a chocolate. 🍫
ABOUT THE AUTHOR
Qonto is the all-in-one finance solution that energizes SMEs and freelancers.
Subscribe to our newsletter
Enter your contact details to get the latest news and trends to help boost your business. 
Ready? Let's go.
Whether it's to examine the specific needs of your business, or to go over the benefits of Qonto's tools and features, we're here for you.