Every current account needs a payment card. Nonetheless, most traditional banks make you jump through hoops in order to get one.
You need to call your banker, submit a request for a new card, sign the contract, and wait for them to process your request. Then you need to call your banker again for a progress update, followed by more waiting.
At Qonto, we've replaced all the red tape and phone calls with a simple process available in your app. Read on for an overview on how to get your card. 👇
Physical card or virtual card?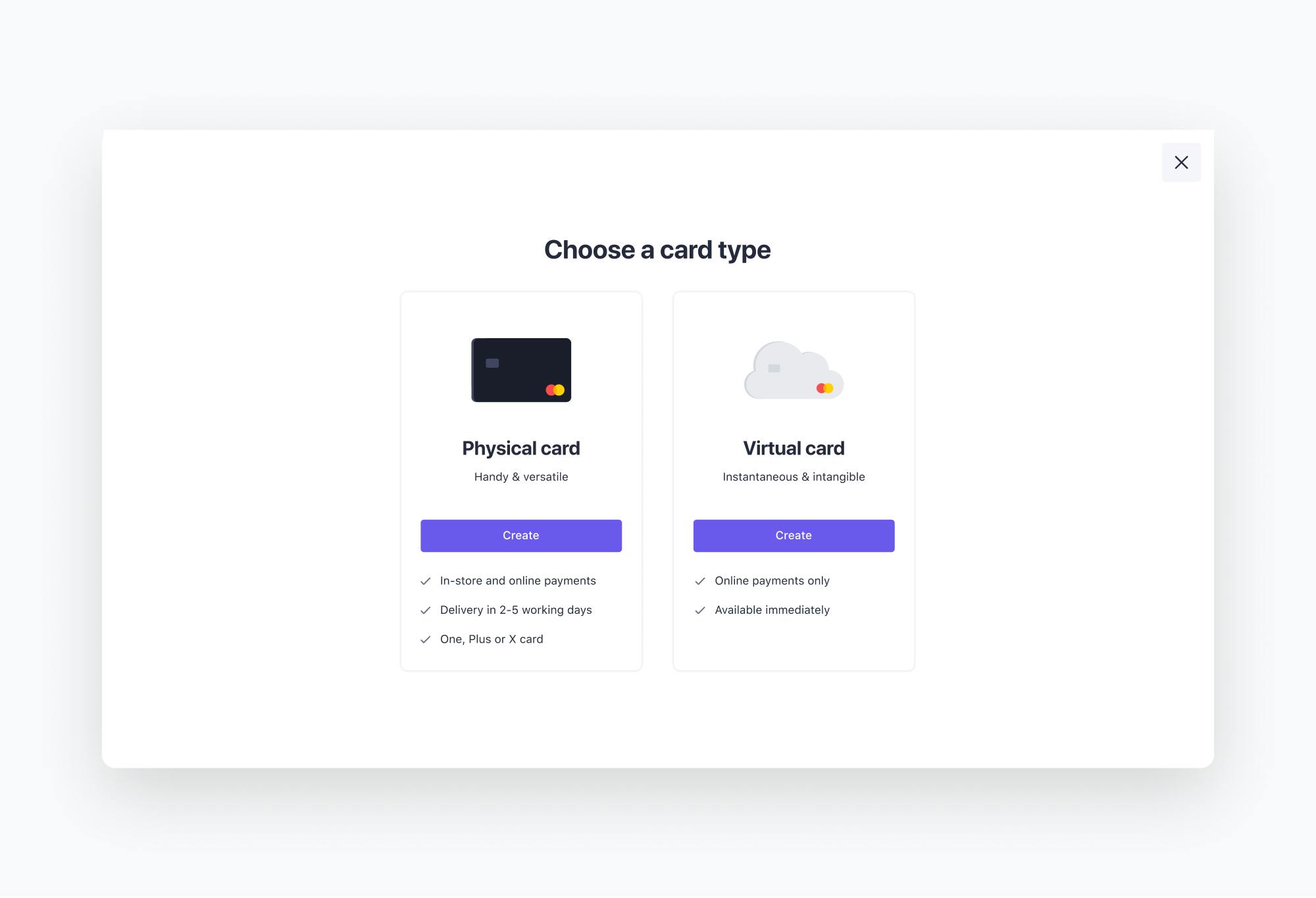 The first step is choosing between a physical card and a virtual card.
People tend to forget, but you don't have to wait for delivery to use a card anymore. You can create a virtual card almost instantly and get straight to your online shopping. Plus, you can use it to give your employees a bit more leeway and independence (all while keeping control of your finances).
However, if you need a daily payment solution, nothing beats the traditional physical card.
In just a few short days, it will be in your wallet, ready to be used anywhere you go. Opting for the physical card also comes with a significant advantage: a choice between the One, Plus or X card.
One, Plus, X: select the best card for your growing business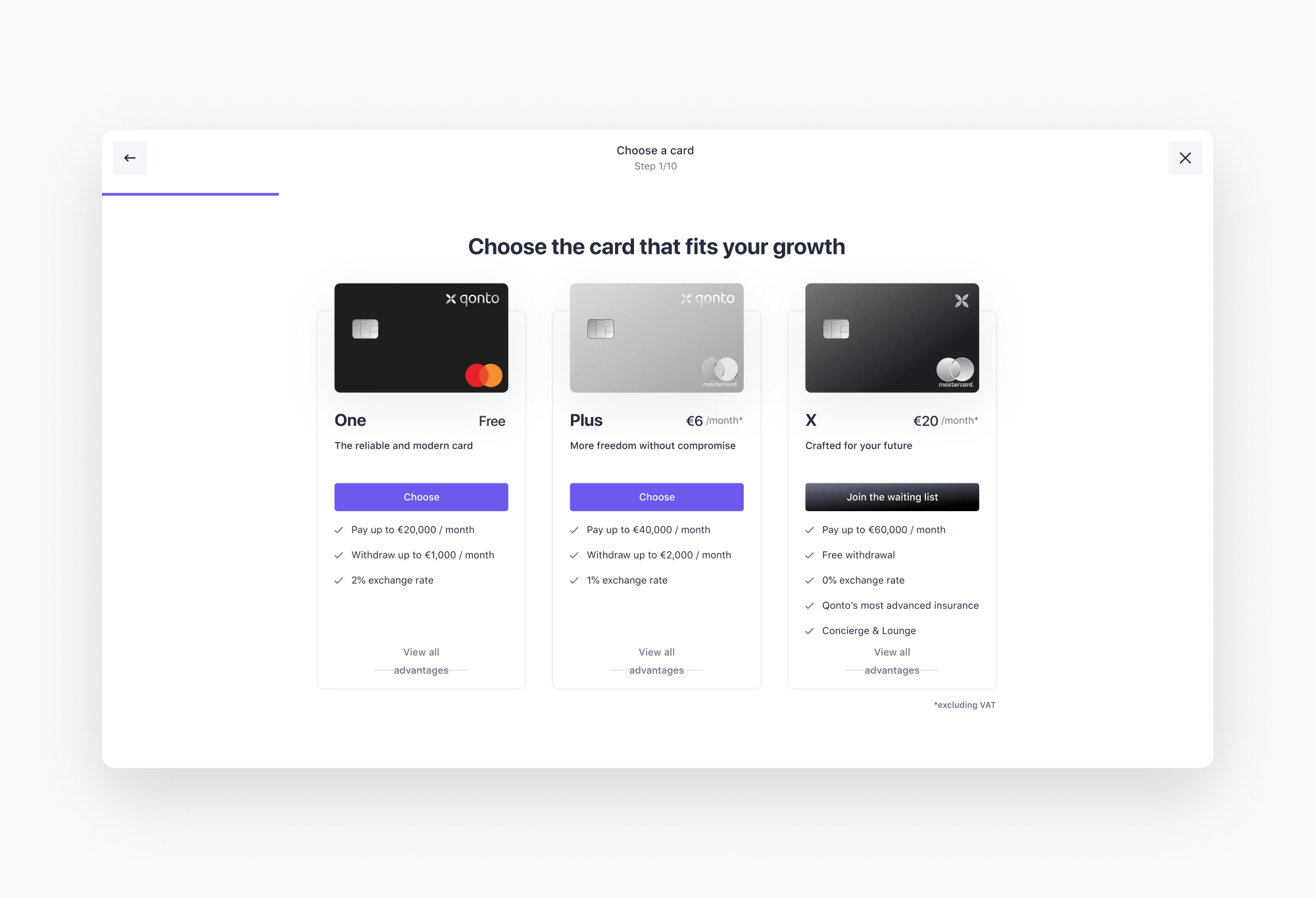 Your expenses vary depending on your line of business, the size of your company or industry sector, and so should your card.
If you routinely travel around France, for example, the One card is a safe bet. It allows you to spend up to €20,000 per month. However, if you often need to purchase equipment, perhaps the Plus card would be more appropriate. It allows you to spend twice as much. But you need to consider more than just payments limits: check out our article for a summary on the differences between the two cards.
The X card is another story altogether.
On the one hand, its zero commission on foreign exchange and exclusive access to airport lounges make it the ideal card for international business people. On the other hand, its material and strong identity appeal to those with an appreciation for design and the finer things in life. If this sounds like you, you may want to take a look at this.
We gather all the information you need within the same app.☝ Once you have selected your card, you can modify it to your liking.
Adapt your card to suit your business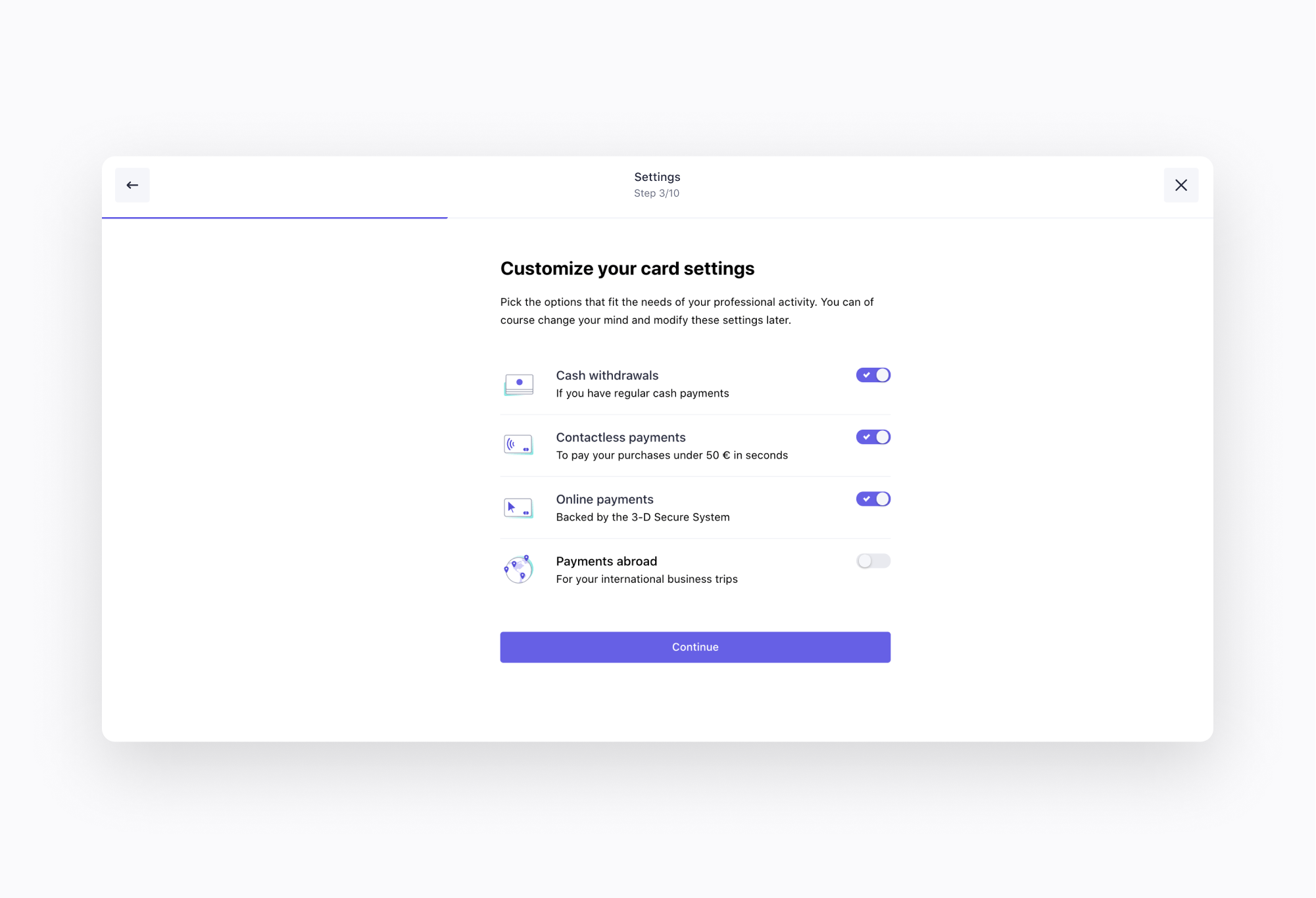 We've ensured that all card options (or almost all of them) can be adapted to meet your needs.
First of all, you will need to decide on the assigned cardholder. You are not the only one eligible to have a card; in theory, all your employees can have one (or several for that matter)! That's as long as they have access to your Qonto account.
Note: don't worry. Having access to your account doesn't mean having access to all your information and cash flow.
Next, you can activate or disable the various card features: cash withdrawal, contactless payment, online purchases, and even international purchases. If you don't think you will use one of these options, simply disable it. This will help to better protect your account. If you change your mind, you can always go back and activate it later.
Finally, you must set the payment and withdrawal limits. You can modify these limits as you wish, so long as they are within those applicable to the card. The goal is to keep control over expenses purchased on the card, even if it's assigned to another cardholder.
And voilà! Your card is finally ready. Simply tell us where to send it.
Choose where you want to be delivered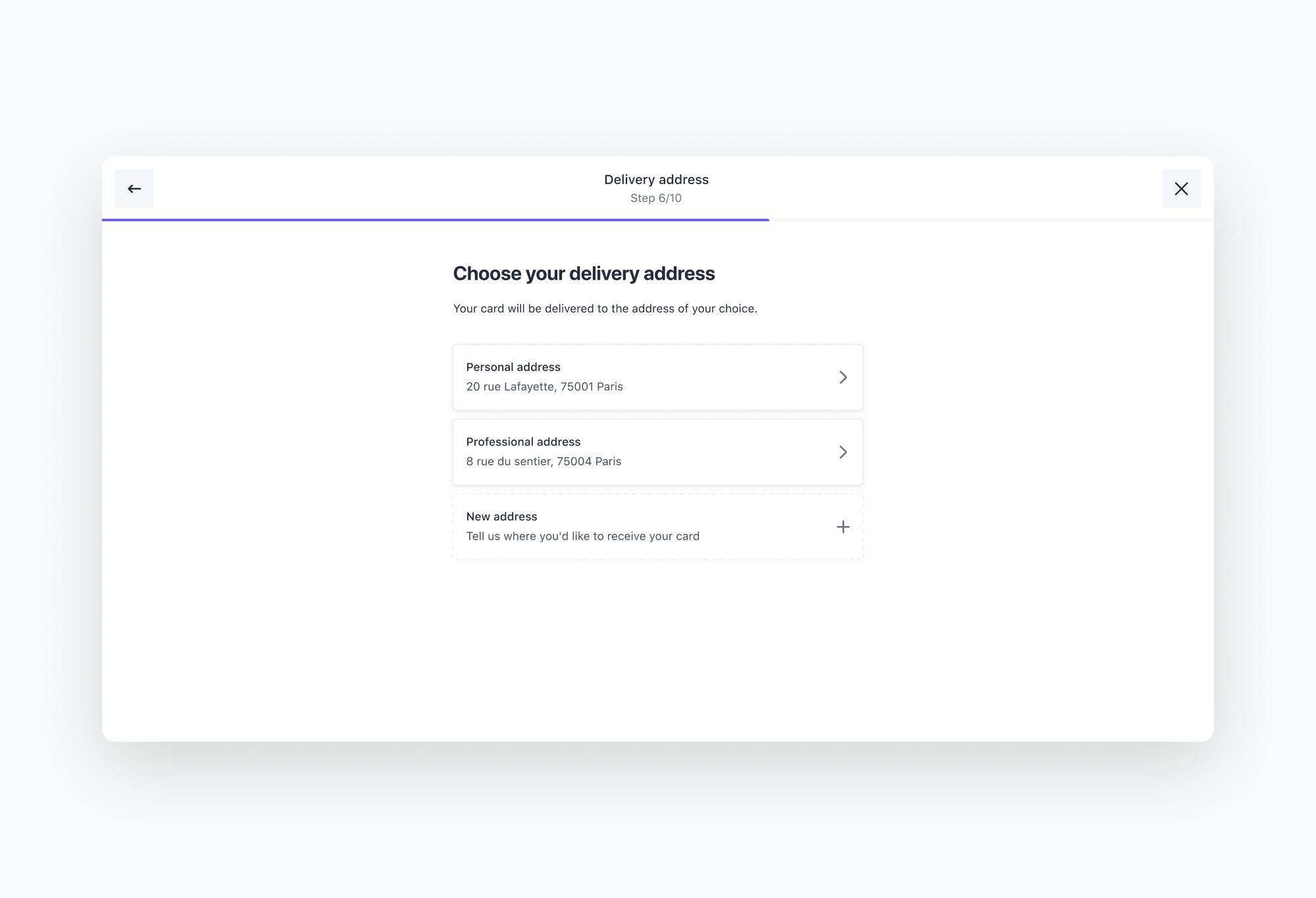 At home, at work or anywhere. The choice is yours.
Your One card (or Plus card) will be waiting for you in your mailbox. Your X card, however, will be hand-delivered to you.
But you will have to wait a few more days to receive your Qonto card. Generally speaking, our physical cards will arrive in about 2-5 working days. Just a little while longer!
Note: by far the fastest one in the pack remains the virtual card. You barely have time to submit your order, and it's already available on your app.
Although it takes a few days for delivery, ordering your card requires just a few minutes of your time. By the way, if you would like to give us your feedback, feel free to send us an e-mail at support@qonto.com. 😇