Since the start of the quarantine, companies are enabling work-from-home to keep business running and help employees follow social distancing guidelines.

But working from home is not new, and has been on the rise for a while in many companies and especially at Qonto. As our model is based on the dematerialization of business banking and we are present in four different countries (France, Germany, Italy and Spain), working remotely is part of our culture at Qonto. For instance, every Qonto employee can work from home one day per week.

However, working from home can present a host of new challenges for both managers and employees, such as lack of communication, difficulty of managing time and loneliness.

This is why at Qonto we implemented a set of tools early on to ensure the continuity of our service and maintain teamwork, team spirit and unity. 
Our tools for working remotely
Because working remotely is not a new practice at Qonto, these tools have been implemented and used by our teams since the beginning. 
In addition to remote access to the internal server via a VPN and the use of Google tools (G Suite), such as Drive, Docs, or Sheets, Qonto relies on the following tools:
Our best practices to maintain teamwork and cohesion
However, effective remote working teams don't just require the right technology—they require the right leadership and management, as well as little gestures and fun times to keep the spark of teamwork alive. ✨
So here's what we are doing at Qonto to keep our teams motivated:
Organize "Ask me anything" and "e-All Hands" with the founders
We organize a video conference every week where people can ask anything they want to our founders, from our new HR policies to the future of Qonto. While communication is always essential for managers and leaders, it becomes of paramount importance when working remotely — especially in terms of reaching out to team members and making themselves available.

We also maintained our monthly company meeting (All-Hands) and do it now on Google Hangouts Meet, where every employee (we are currently 202 employees) is invited to attend a presentation by the management, where the objectives and key results from each team are shown and the next steps are discussed.
Check in daily with the teams
When you are in the office it is very easy to interact with your colleagues throughout the day, but when everyone is working remotely, not so much… So it becomes important to be intentional about communicating with your team everyday. This is why, at Qonto, managers have daily meetings with their team members to discuss their daily tasks and planning, but also to stay connected.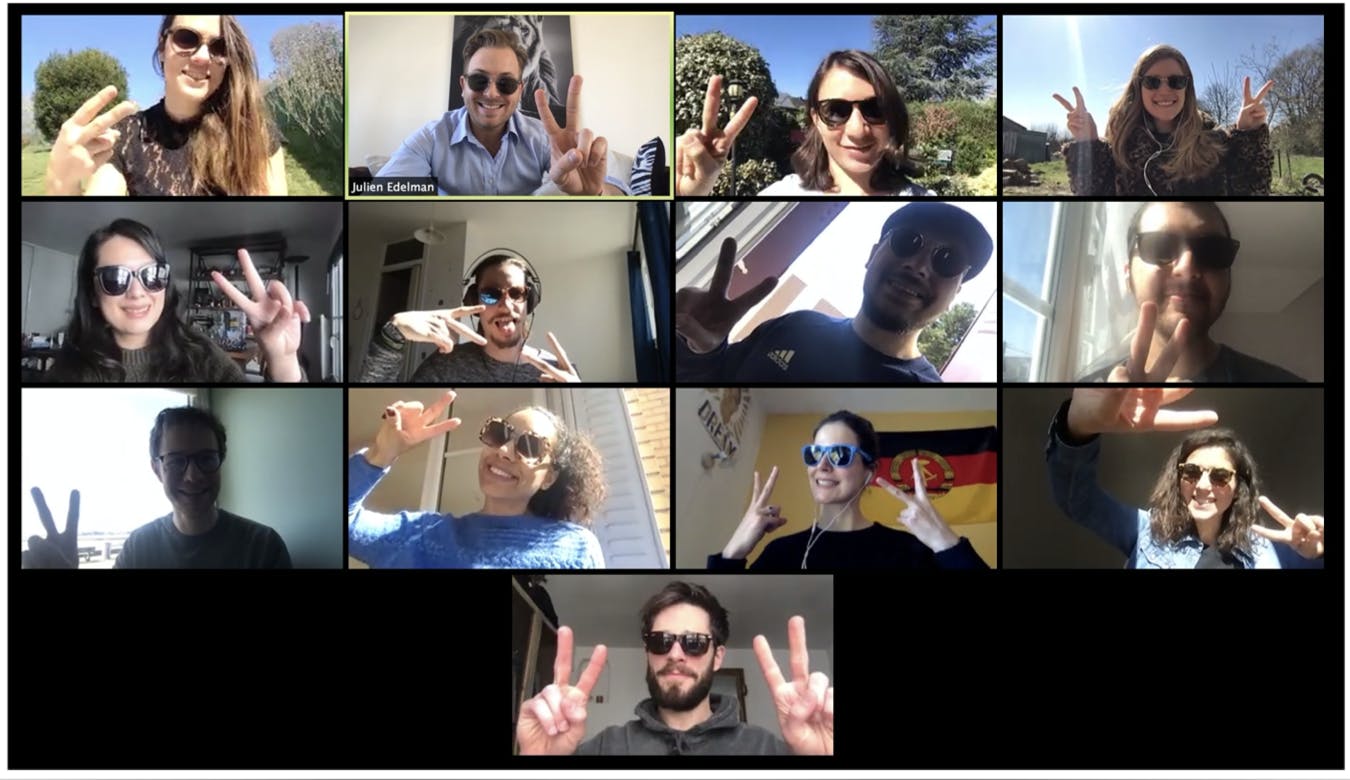 Organize challenges, e-workouts and e-cooking classes
With all the changes that come with implementing remote work, it is important to foster and maintain team morale. Our (amazing) Happiness Manager organizes Qonto challenges, games and e-workouts for everyone to enjoy! 

Our workout sessions are held twice a week on Slack. Two people from Qonto do video calls with everyone who wants to follow the class, which last for an hour usually. For the "Qonto Challenges", employees upload a photo to Slack, and everyone can vote for the best outfit, the best meal, the funniest pet, and so on. As for the "Qonto Games", people at Qonto can pass blind tests, answer quizzes, polls, make online board games…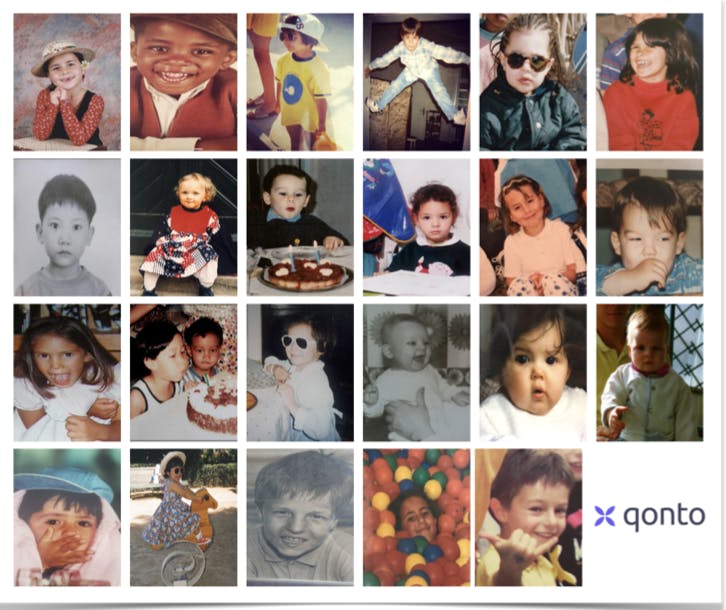 Finally, every Tuesday evening, someone from the team puts his/her apron on, and teaches, via videoconference, whoever wants to from Qonto, a fun and yummy recipe! The recipe and ingredients are shared 4 days in advance with everyone. 
The first recipe we made? Delicious french chouquettes! 😋
Plan e-lunches and e-afterworks
For office buddies, lunches and afterworks can be a nice time to reconnect over video chat. This is why teams put into place virtual lunches and afterworks to keep the team spirit alive.
Share tips and articles on how to better live the quarantine
And last but not least, Qonto HR team selects and shares the best articles that can help employees to experience containment in the best possible way (tutorials, videos, apps to use).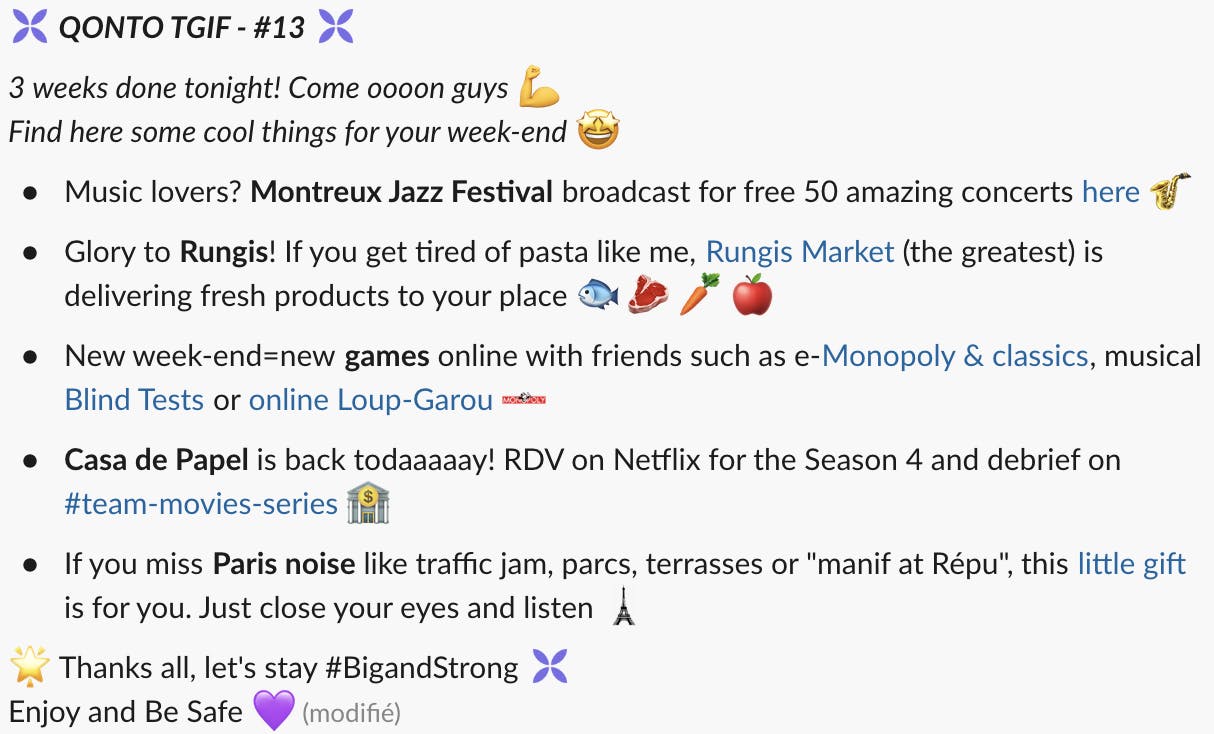 We hope that these few tips and good practices have given you some ideas on how to best manage your remote work during this period of quarantine.
Only one month to go before you meet your (super) colleagues again! You got this! 💜